On February 27, 2016 by Kim
Ladies and gentlemen! Here is your lineup for the first ever Recipe Madness Bracket Challenge!
You will want to check out these drool worthy pictures and descriptions before you create your Recipe Showdown bracket and before you start voting for the winners. You may have cooked these recipes before, which will help you determine your favorites, but if you haven't, that is ok.
Based on the picture and description you see here, which do you most want to add to your custom freezer menu? Which one says, "Eat me – NOW!" or "Put me in your freezer for later!" Maybe you are super excited to see a Gluten Free makeover of an old favorite you have been missing. Or maybe you see something so delicious that it makes you want to frack your diet. However you determine a winner is fine by us, just be sure to cast your vote.
*Bracket building is now complete.*
*Voting for Round 1 begins Saturday, March 19th, and all submissions must be completed by Monday, March 21st, 11:59 pm EST.
---
Round 1 Recipe Lineup
Breakfast Division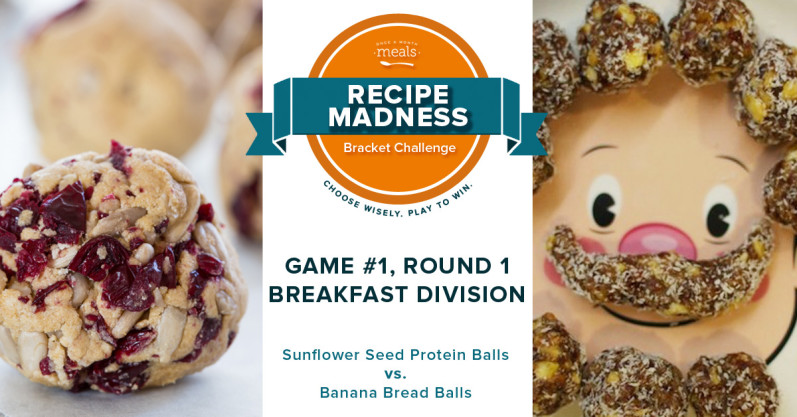 Both of these recipes for healthy breakfast cookie balls come from our blog partners! Starting for Healthy Seasonal Recipes are crunchy sunflower seeds, tart dried cranberries and the sweetness of bananas and maple syrup. While both breakfasts are grain free, Paleo Parents is also nut free, and they boast some coaching from the famed Larabar. It't going to be a close one!
Both of these recipes have come through the OAMM training camp, but only one can advance. Sausage and Pancake Breakfast Balls play a game based on the fundamentals. They are a triple threat of fluffy pancakes, savory sausage, and sticky syrup that can handle breakfast on the go or a slow Sunday brunch spread. The Breakfast Chicken Meatballs, on the other hand, play a mean Zone defense (Protein Block 3 to be exact) and pack a lean Paleo punch of chicken, citrus, and herbs.
Snacks Division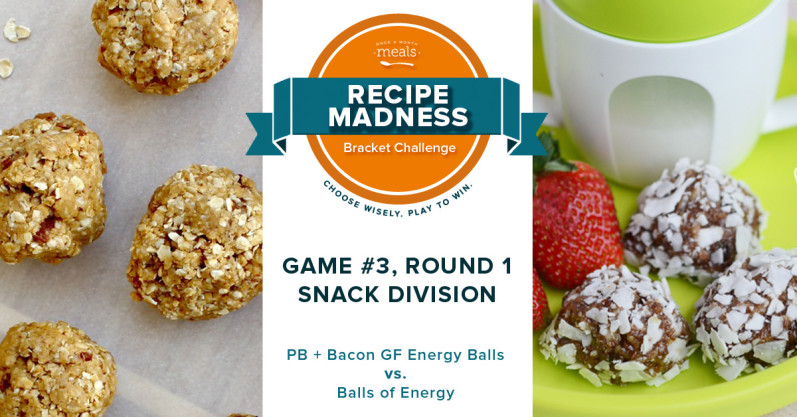 OAMM goes head-to-head with Confessions of an Over-worked Mom. Both teams know their way around a peanut butter jar. The Gluten Free Energy Bars from the Over-worked Mom like to change up the play with oats and crisp bits of bacon. An unlikely line up of salty and sweet proves they have great teamwork. But OAMM comes at them with a solid, senior team: bananas, peanut butter, and chocolate. Their secret weapon is talented freshman: coconut! Fans are still divided on this match up.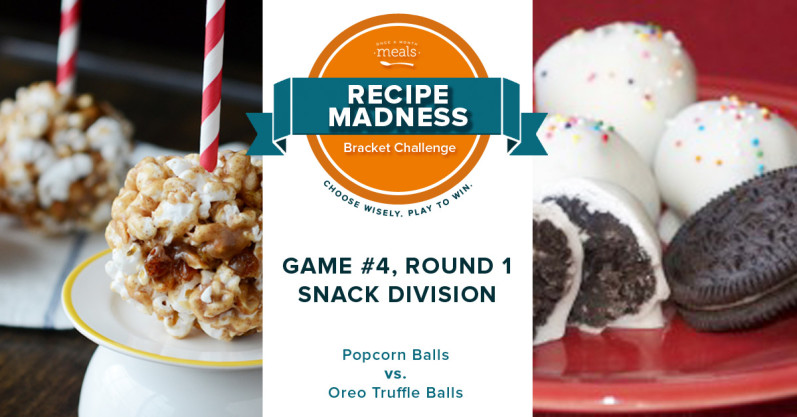 When it comes to the snacks and sweets division, it seems these two are always top contenders: popcorn and chocolate cookies. Both hail from OAMM, but they play a very different game. Popcorn Balls take an after-school favorite and add in some fancy footwork. Crunchy peanuts, golden raisins, and cinnamon put on a fantastic show for the crowd, but can they beat the simplicity of chocolate and cream? The Oreo Truffle Balls are a solid team with great chemistry, and sometimes being good at the basics is all you need to take down a flashy rival. Or is it?
Lunch Division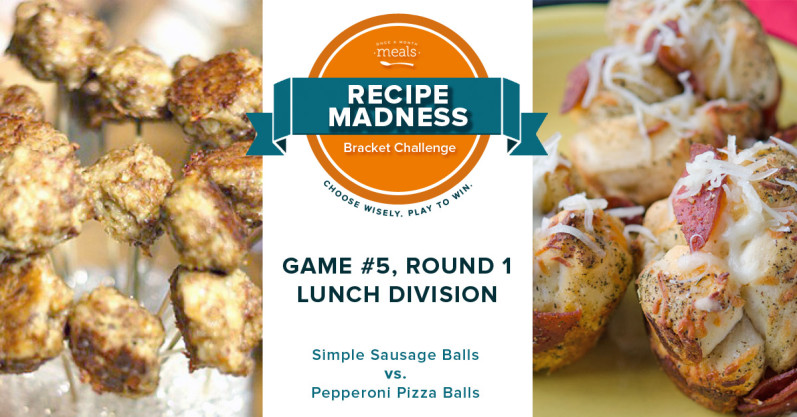 Don't be fooled by coach 10 Minute Dinners. She can bring it in the Lunch Division too! Simple Sausage Balls bring the heat with hot sausage and sharp cheddar bound together with the league MVP, baking mix. What a versatile and valuable player. But OAMM brings a lunchbox favorite with fans of all ages. Italian cheeses and spices play a man-to-man defense that is tough to break. With pepperoni and pizza dough under the basket, it will be another nail-biter!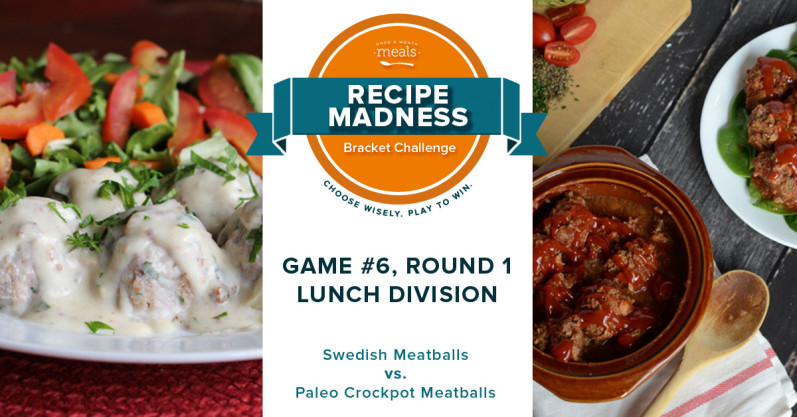 The Swedish Meatballs may appear creamy and heavy, which might not seem like a winner in the light lunch category. But you may be shocked to find that they pack a lean, mean punch as they are made with turkey, panko crumbs, and other low cal ingredients, not to mention some surprisingly tasty spices! We may see this underdog upset the long time favorite, Paleo Crockpot Meatballs. This team is classic – full of basil, garlic, and tomato – but also grain free! This combo has won them many accolades, but can they hold the title against a savory newcomer?
Dinner Division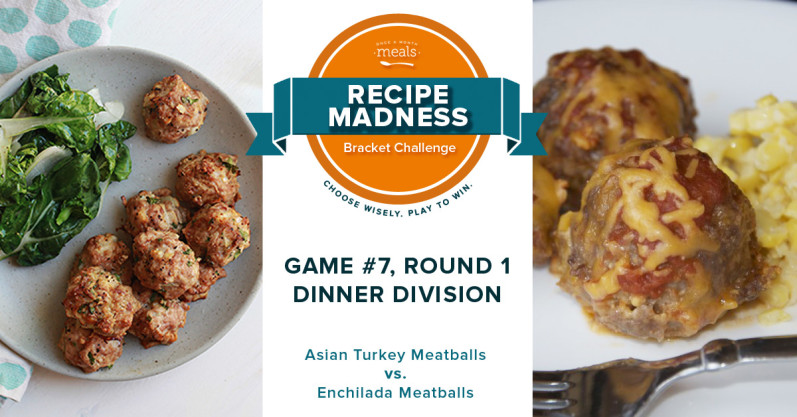 These two teams prove that variety is the spice of life. Asian Turkey Meatballs, led by Simple Easy Lean boast an exotic flavor as well as a low calorie count. It may not be what you are used to seeing on your plate at dinner, but I promise you won't be disappointed. They face off with Enchilada Meatballs, of OAMM, who bring a surprising starting lineup of enchilada sauce, cheese and cornbread in a meatball instead of a casserole dish. Don't miss this game, because it is certain to be a crowd pleaser.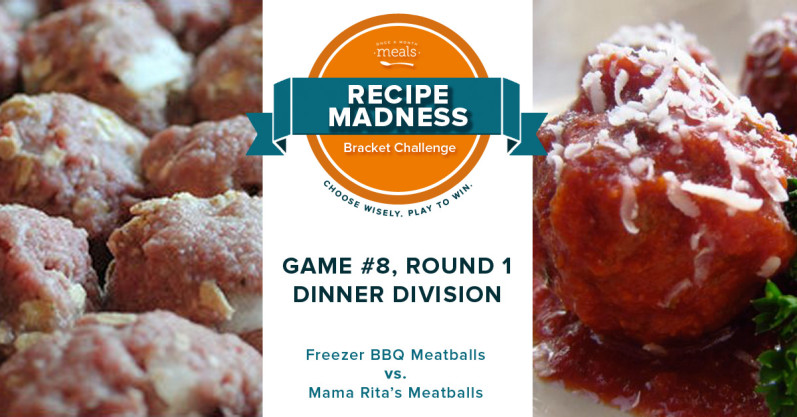 These are the heavy hitters folks. It could be argued that these classic recipes have won more trophies than any others, but only one can take home the championship. Will it be the team coached by a sweet, but fierce Italian Grandma, Mama Rita's Meatballs? Or will it be the spicy-sweet, family party favorite, Freezer-Friendly Barbecued Meatballs that takes home the prize? This game between Money Saving Mom and OAMM is sure to be one for the record books.