On December 23, 2012 by Kelly
In 2012 we decided to Get Real around here. Well, some of us did. Kelly and I started this series because she has a passion for teaching others about real foods, and I have a desire to be better and better at transitioning our family to the same. And I felt that many of you shared that same desire. I didn't just didn't want to do it in one swoop. I wanted to take my time, ease into the transitions and make the changes more permanent in our lives. I met with some great triumphs and great trials along the way.
Where we succeeded:
Moving to organic and CSA based fruits and vegetables. This has been one of the easiest switches we have made, and I am loving our local CSA delivery each and every week.
Moving to whole milk, local eggs, butter and other commonly used staples. This too has been easy to locate and get my hands on and was an easy transition.
Making our own bread. This I did religiously through June, but then the days got hot and our lives went into fast forward. As our lives are settling back down (read we are home more), this is one of the first things I am ready to pick back up with. My grain mill is just waiting on me!
Caffeine/Cola – I have a cola addiction. I know I do. It is my "pleasure" drink. I don't drink coffee at all and alcohol only a special occasion, but a Coke Icee? It is my beverage love. Early in the year I gave up caffeine and it was painful. I swore I would never go back. I did. I am now waiting for the Christmas holiday break so that my husband will be around and I can detox from it again. I KNOW that I felt better, had less headaches and didn't have so many highs and lows when I wasn't drinking it. So I definitely want to quite again.
Dining Out – We had so much fun this year searching out local eateries wherever we were traveling. We had some amazing dinners from Farm to Table restaurants around the country. It was absolutely amazing and eye opening. I have to say, discovering new eateries is one of my favorites things about this transition.
Where we stumbled:
Our lives picked up FAST AND FURIOUS starting in August. We were traveling a lot the months of August/September as a family and occasionally just my husband. (I don't eat well when he is gone.) After the traveling ended we were engrossed in buying a house we didn't plan on buying (it is a great story) and moving. My kitchen was packed, our lives were packed, we were running from place to place every day. I missed cooking, I missed eating local, I missed my CSA. We fell hard off the Get Real wagon.
I will say that this Fall we have been sick A LOT. This might be due to the kids starting school for the first time and building up antibodies, BUT I also noted that the doctor said we hadn't been in since LAST Fall, you know, right before we started our Get Real journey? Coincidence? I don't think so. I do believe that eating healthier contributing to our boosted immune systems. And as 2012 comes to a close and we begin 2013, I do intend that we will be jumping right back on the Get Real wagon.
Caffeine – As mentioned above, after detoxing earlier in the year I caved to it, and I want to change that again. I felt so much better when I wasn't drinking it.
Where do we go from here? We will continue to keep the Get Real Facebook Page alive and well. We will continue to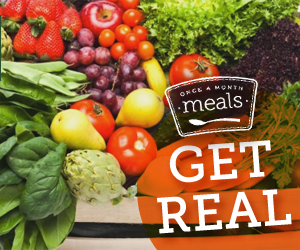 keep the Get Real series alive and accessible. We will also follow the 2012 journey in 2013 using our Facebook Page as the vehicle for encouraging and challenging each of you in your journey. I am anxious to get started again and to build on the foundation that was laid this year. In the end, it is much like a house that has to be slowly erected. I never imagined that I would be 100% happy with my journey in one year. I expected that I would be better disciplined, better educated and eating better than I was one year ago today, and I am. I also expect that I would feel the same way one year from now. I want to continue to move forward in my journey one step at a time. What about you?