Banana Pineapple Smoothie
Get your morning started right with an easy serving of fruit, protein, and nutrients all in one glass. This Banana Pineapple smoothie is tasty and diet friendly.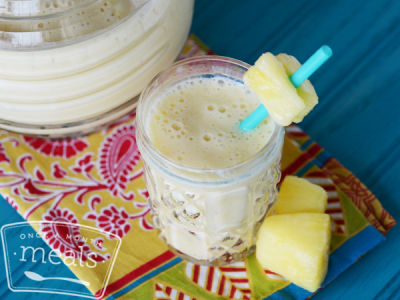 Ingredients
½ cups Yogurt, Vanilla, Low Fat
½ medium Frozen Banana
½ cups Orange Juice
½ cups Pineapple Chunks, Frozen
½ cups Skim Milk
Freezer Containers
Supplies
Nutritional Information
1 serving = 1 smoothie

277 Calories

2g Fat

7mg Cholesterol

136mg Sodium

981mg Potassium

57g Carbs

3g Fiber

38g Sugar

11g Protein

7 WW+ Points
Directions
Combine all ingredients in blender, breaking into batches as needed.
Blend until smooth.
Freezing Directions
Why would I want to freeze this?
Combine all ingredients in blender.
Blend until smooth.
Divide among indicated number of quart sized freezer bags, label and freeze.
Serving Day Directions
Knead smoothie in bag, pour into glass and enjoy.