Crock Pot Low Carb Zuppa Toscana Soup- Lunch Version
Once A Month Meals offers custom freezer meal plans to meet your family's needs. Sign up to add this recipe to your own custom meal plan.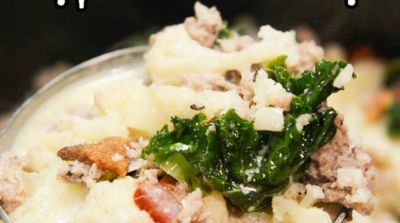 Ingredients
1 ¾ cups cook Ground Sausage
½ cups cook and dice Bacon
¼ cups dice Shallot
1 teaspoon mince Garlic, Cloves
1 cup dice Cauliflower
2 cups chop Kale
¾ cups Heavy Whipping Cream
Freezer Containers
Supplies
Nutritional Information
1 serving = 1.5 cups

520 Calories

47g Total Fat
19g Sat Fat
0.5g Trans Fat

125mg Cholesterol

1560mg Sodium

6g Total Carb

1g Fiber

4g Total Sugars (Includes 0g Added Sugars)

20g Protein

19 WW SmartPoints
Diabetic Exchanges: 8 Fat
0 Fruit
0 Milk
0 Other Carb
0 Starch
1 Veg
3 Lean Meat
Make It Now
Cooking Directions
These directions are for cooking this recipe to serve immediately and NOT to freeze for later.
Visit Recipes That Crock for same day cooking instructions.
Freeze For Later
Cooking Directions
These directions help you cook or prepare this meal PRIOR to being frozen for serving later (see Serving Day Directions when you are ready to prepare it to eat).
Why would I want to freeze this?
Place the sausage, bacon, shallots, garlic, broth, and cauliflower into the slow cooker.
Cook on low for 4-6 hours.
Stir in the kale and cream.
Allow to cool.
Divide among the indicated number of freezer bags. Label and freeze.
Make From Frozen
Serving Day Directions
These directions help you cook or reheat this meal AFTER it's been frozen for when you are ready to eat it.
Reheat in the microwave until warmed through.