Crockpot Ranch Pork Chops- Dinner Version
Slow cooked in a ranch seasoned cream of chicken sauce, these Crockpot Ranch Pork Chops are simple yet full of flavor. With only 4 ingredients, you can throw this crowd pleasing dish together in no time!
Once A Month Meals offers custom freezer meal plans to meet your family's needs. Sign up to add this recipe to your own custom meal plan.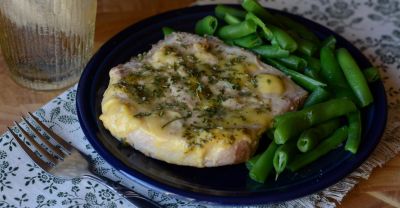 Ingredients
10 ½ ounces Cream of Chicken Soup
1 ¼ cups Water
2 pounds Pork Chops, Boneless
Freezer Containers
Supplies
Nutritional Information
Freeze For Later
Cooking Directions
These directions help you cook or prepare this meal PRIOR to being frozen for serving later (see Serving Day Directions when you are ready to prepare it to eat).
Why would I want to freeze this?
In a large bowl combine dry ranch seasoning mix, cream of chicken soup, and water. Divide evenly between indicated number of quart sized freezer storage bags.
Divide pork chops between indicated number of gallon freezer storage bags.
Place one quart sized bag of soup mixture inside one gallon sized bag of pork chops, label and freeze.
Make From Frozen
Serving Day Directions
These directions help you cook or reheat this meal AFTER it's been frozen for when you are ready to eat it.
Thaw: In fridge
Cook in slow cooker on low 4-6 hours.
Place pork chops in the bottom of slow cooker.
Pour sauce over the top of the pork chops.