Gluten Free Dairy Free Lemon Chicken
Lemon chicken is a staple in most households because of it's delicious taste and ease of preparation. This recipe is no exception. It can be frozen before cooking and placed in a slow cooker on serving day. This recipe is naturally gluten free, dairy free butter is the only substitution.
Once A Month Meals offers custom freezer meal plans to meet your family's needs. Sign up to add this recipe to your own custom meal plan.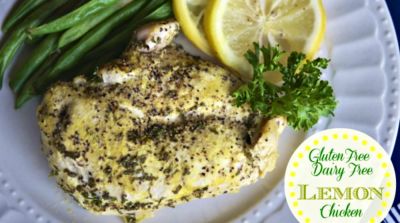 Ingredients
3 pounds Chicken, Boneless Breasts
2 tablespoons Ghee
1 cup slice Lemon
Freezer Containers
Supplies
Nutritional Information
1 serving = 1 cup

430 Calories

13g Fat

204mg Cholesterol

494mg Sodium

631mg Potassium

5g Carbs

1g Fiber

2g Sugar

71g Protein

10 WW+ Points
Zone Blocks: 10 Protein 4 Fat 0 Carb
Make It Now
Cooking Directions
These directions are for cooking this recipe to serve immediately and NOT to freeze for later.
Place all ingredients into slow cooker.
Cook on low for 8-10 hours.
Freeze For Later
Cooking Directions
These directions help you cook or prepare this meal PRIOR to being frozen for serving later (see Serving Day Directions when you are ready to prepare it to eat).
Why would I want to freeze this?
Combine all ingredients and divide into indicated number of freezer bags.
Label and freeze.
Make From Frozen
Serving Day Directions
These directions help you cook or reheat this meal AFTER it's been frozen for when you are ready to eat it.
Cook on low in slow cooker for 8-10 hours.