Thai Chickpea Pasta
This dish comes together incredibly fast, with everything done in the time it takes to boil your noodles. Between the nutty-flavored multi-grain noodles and the sweet and savory flavor of the peanut sauce, it's sure to delight your tastebuds and tummy.
Once A Month Meals offers custom freezer meal plans to meet your family's needs. Sign up to add this recipe to your own custom meal plan.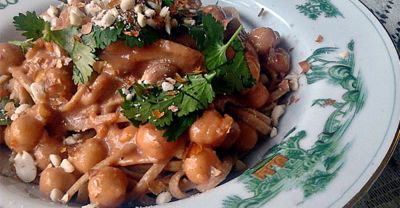 Ingredients
1 tablespoon chop Cilantro, Fresh
½ ounces Peanuts, Unsalted
2 tablespoons Peanut Butter, Creamy
1 tablespoon Orange Juice
½ cups Salsa

Make It Now / Serving Day Ingredients

These ingredients are to be used 1) promptly if you "Make it Now" — to serve immediately, or 2) after freezing if you "Make From Frozen" — for the day you serve and eat it.

3 ½ cups cook Linguine
Freezer Containers
Supplies
Nutritional Information
Make It Now
Cooking Directions
These directions are for cooking this recipe to serve immediately and NOT to freeze for later.
Cook pasta according to package directions.
Meanwhile combine all other ingredients except peanuts and cilantro in a large bowl and microwave for 1 minute or until heated through.
Mix sauce with pasta, garnish with peanuts and cilantro and serve
Freeze For Later
Cooking Directions
These directions help you cook or prepare this meal PRIOR to being frozen for serving later (see Serving Day Directions when you are ready to prepare it to eat).
Why would I want to freeze this?
Divide cilantro and peanuts among pint bags and freeze.
Mix remaining ingredients and divide among remaining 1/2 gallon freezer bags and freeze.
Make From Frozen
Serving Day Directions
These directions help you cook or reheat this meal AFTER it's been frozen for when you are ready to eat it.
Thaw: In fridge
Heat sauce in microwave for 1 minute;
Serve sauce over cooked pasta.
Garnish with peanuts and cilantro.