Membership Benefits
A Once A Month Meals Membership gives you access to the best freezer cooking resources available, an active community of freezer cooks, and an involved, dedicated staff here to help you make time for what matters most.
Recipes
Get access to over 6,000 freezer friendly
recipes of various dietary preferences.
Search through our recipe database by various filters and tags such a meal type, cook type, and more! You'll also find recipes adapted by your favorite bloggers!
And don't forget — You can include up to 15 recipes in any menu. Mix and match recipe and dietary types to fit your needs and preferences!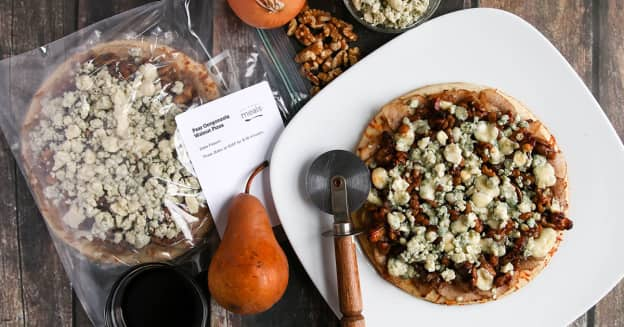 ---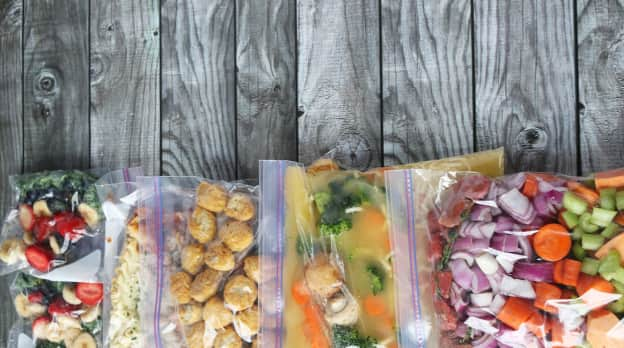 Menus 
Choose from over 600 curated menus for
inspiration or super simple meal planning.
Discover 11 new, seasonal, and original menus developed by our team. Every menu doubles each recipe to maximize the time, money, and effort you put into freezer cooking.
Our menus and their resources are easy to use for cooks of all skill levels and are adjustable for every lifestyle.
---
Customization
Make and customize a menu from one of our menus, from a recipe, from your favorites, or from scratch! 
Our unique Menu Builder software allows you to customize a menu with up to 30 freezer meals, and you can save up to 5 menus at a time! Regardless of the number of recipes in your menu, you can adjust the serving to any number, and your menu resources will change!
Mix and match breakfasts, lunches, dinners, snacks, or side dishes. When you add or delete recipes, or adjust the serving size, all of your menu resources update automatically to reflect the change!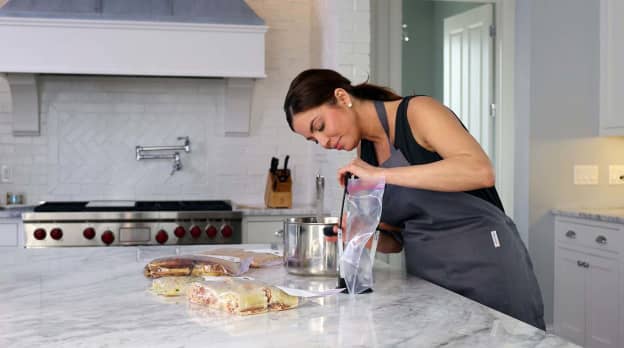 ---
Menu Resources 
Use your menu's resources to
save time, money, and energy.
You get customized sets of menu resources including a grocery list, prep and cooking instructions, recipe cards, labels and a thaw sheet are generated with each menu you make and customize.
Each document helps you cook and assemble your meals as fast as possible. So no matter the number of servings, you can get through your cooking day in no time!
---
Community Support 
As a Member, you get access to our
Members-Only Community!
Find tips, members' favorite recipes, freezer cooking support, and more! So join us, and join together with cooks from around the country, and globe as we freezer cook!
In our Community you'll find questions, answers and advice about literally anything related to freezer cooking, meal planning, recipes, menus and more. Ask a question, give advice, share your story and more to get connected!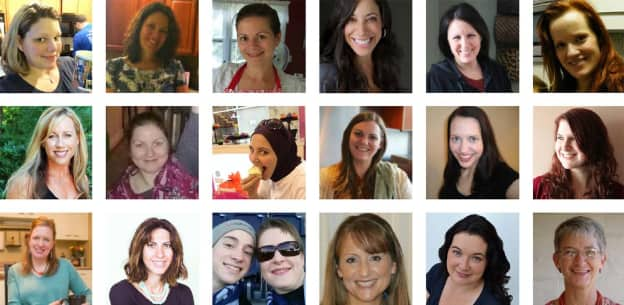 How We Help You
If you have never freezer cooked or even meal planned before, we are here to walk you through it. If you are a veteran freezer cook, we're here to help too! No matter the stage or skill set, you will have the support from our staff and community as you get started.
Community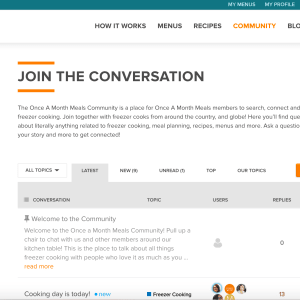 Join together with freezer cooks from all around to find questions and answers about anything related to freezer cooking!
Blog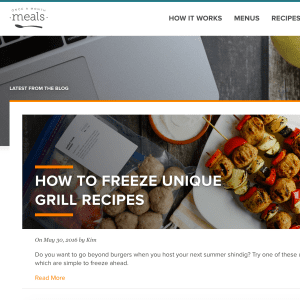 We have a treasure trove full of meal planning and freezer cooking information. See the blog for tips, videos and more!
LIVE Chat
We are standing by, ready to answer and cooking or freezing questions you may have. Ask us anything!
Personalized Profile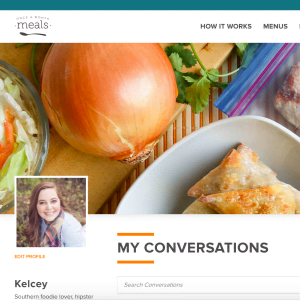 Use your profile page to help keep track of your custom menus, trending recipes, and your conversations within our community!
Secret Handbook
New to freezer cooking? Receive a Members-Only Handbook and get our pro tips for getting organized for success!
Weekly Newsletters
Never miss new featured menus, popular mini menus, seasonal recipes, trending content, and the latest news from Once a Month Meals!