Carnitas Tacos
It's Make Your Own Taco night at my house! Throw these Carnitas Tacos in the slow cooker and have dinner on the table in a few hours.
Once A Month Meals offers custom freezer meal plans to meet your family's needs. Sign up to add this recipe to your own custom meal plan.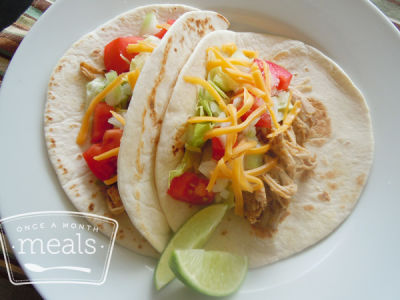 Ingredients
3 pounds Pork Roast
1 teaspoon Salt
½ teaspoons Black Pepper
4 teaspoons mince Garlic, Cloves

Serving Day Ingredients

These ingredients are added AFTER your meal has been frozen — for the day you serve and eat it.

12 individual Flour Tortillas (8-inch/Med)
Freezer Containers
Supplies
Make It Now
Cooking Directions
These directions are for cooking this recipe to serve immediately and NOT to freeze for later.
Place all ingredients in slow cooker.
Cook on low for 6-8 hours.
Remove from slow cooker and shred. Serve in tortillas
Freeze For Later
Cooking Directions
These directions help you cook or prepare this meal PRIOR to being frozen for serving later (see Serving Day Directions when you are ready to prepare it to eat).
Why would I want to freeze this?
Divide all ingredients except tortillas into indicated number of freezer bags. Label and freeze.
Make From Frozen
Serving Day Directions
These directions help you cook or reheat this meal AFTER it's been frozen for when you are ready to eat it.
Place in slow cooker and cook on low in slow cooker for 6-8 hours.
Remove from slow cooker and shred. Serve in tortillas