Spicy Honey Chicken
Juicy grilled chicken breasts coated with a sweet and spicy glaze are the perfect way to feed your family this summer. Plus there is no need heating up the house to fix this meal! Simply serve this tasty chicken alongside a fresh salad and dinner is ready!
Once A Month Meals offers custom freezer meal plans to meet your family's needs. Sign up to add this recipe to your own custom meal plan.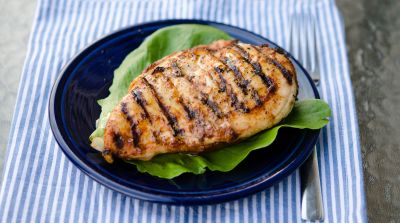 Ingredients
1 teaspoon Salt
2 pounds Chicken, Boneless Breasts

Serving Day Ingredients

These ingredients are added AFTER your meal has been frozen — for the day you serve and eat it.
Freezer Containers
Supplies
Nutritional Information
1 serving = 4 oz.

209 Calories

14g Fat

1g Sat Fat

0mg Cholesterol

482mg Sodium

37mg Potassium

18g Carbs

0g Fiber

17g Sugar

31g Protein

8 WW+ Points
6 WW SmartPoints
Make It Now
Cooking Directions
These directions are for cooking this recipe to serve immediately and NOT to freeze for later.
Freeze For Later
Cooking Directions
These directions help you cook or prepare this meal PRIOR to being frozen for serving later (see Serving Day Directions when you are ready to prepare it to eat).
Why would I want to freeze this?
Combine the spices in a bowl until thoroughly mixed.
Pat the chicken and coat in oil. Dip the chicken in the spices.
Divide among indicated number of freezer bags. Remove as much air as possible, then label & seal.
Make From Frozen
Serving Day Directions
These directions help you cook or reheat this meal AFTER it's been frozen for when you are ready to eat it.
Place chicken on grill and cook 7-9 minutes on each side.
When chicken is almost done, brush on glaze made with honey and cider vinegar. Warm up honey slightly to make it easier to glaze.
Take the chicken off the grill and brush with remaining glaze.