Simple 'Meaty' Spaghetti Sauce
Having this spaghetti sauce on-hand to thaw out and serve over pasta can make busy weeknight meals a breeze (and super healthy). This sauce is also a great choice for those reducing meat intake for Meatless Monday or for Lent, as meat-eaters can still enjoy the meaty texture (and some can't even tell the difference since it's masked by the strong flavor of the tomato sauce).
Once A Month Meals offers custom freezer meal plans to meet your family's needs. Sign up to add this recipe to your own custom meal plan.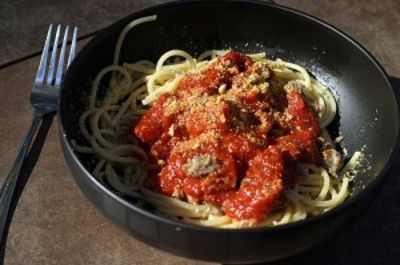 Ingredients
1 cup Meat Substitute Crumbles
Freezer Containers
Supplies
Nutritional Information
Freeze For Later
Cooking Directions
These directions help you cook or prepare this meal PRIOR to being frozen for serving later (see Serving Day Directions when you are ready to prepare it to eat).
Why would I want to freeze this?
Combine ingredients and divide among freezer bags, label and freeze.
Make From Frozen
Serving Day Directions
These directions help you cook or reheat this meal AFTER it's been frozen for when you are ready to eat it.
Thaw: In fridge
Heat over medium heat for 10-15 minutes and serve over prepared pasta.