Slow Cooker French Dip – Whole Foods Version
Enjoy the ultimate french dip from the comfort of your own home! Seasoned with soy sauce, rosemary and garlic this slow cooker recipe is as easy to make as it is to eat. Simmered low and slow the beef is perfectly tender, the makings of a meal you will want to savor with every unctuous mouthful.
Once A Month Meals offers custom freezer meal plans to meet your family's needs. Sign up to add this recipe to your own custom meal plan.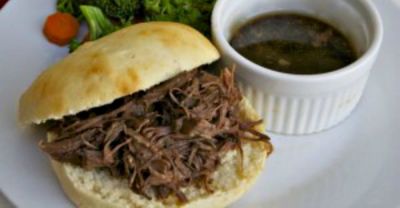 Ingredients
4 pounds Beef Roast
1 teaspoon Black Peppercorns
1 teaspoon mince Garlic, Cloves
8 individual French Bread, Whole Wheat
Freezer Containers
Supplies
Make It Now
Cooking Directions
These directions are for cooking this recipe to serve immediately and NOT to freeze for later.
Freeze For Later
Cooking Directions
These directions help you cook or prepare this meal PRIOR to being frozen for serving later (see Serving Day Directions when you are ready to prepare it to eat).
Why would I want to freeze this?
Cut all the fat off the roast, divide and place in half the indicated number of gallon freezer bags.
Mix together soy sauce, bouillon , peppercorns, rosemary, and garlic.
Pour mixture over the roast in a gallon freezer bag.
Divide buns among half the indicated number of bags.
Label and freeze.
Make From Frozen
Serving Day Directions
These directions help you cook or reheat this meal AFTER it's been frozen for when you are ready to eat it.
Add enough water to the crock pot to cover the roast.
Set the crock pot on high and cook for 1 hour.
Turn down the heat to low and cook for an additional 10 hours. The roast is done when you can pull it apart easily with a fork.
Shred the roast with a fork and serve on rolls, using remaining juices in the crock pot for dipping sauce.