Tropical Green Smoothie
Packed with fruit and greens, the Tropical Green Smoothies is a a refreshing and nutritious start to your day, as well as a great way to sneak some healthy greens into your diet!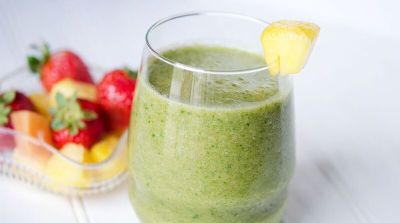 Ingredients
2 cups Tropical Fruit, Frozen
2 medium Banana
2 cups Apple Juice
2 cups Spinach
Freezer Containers
Supplies
Nutritional Information
1 serving = 1 cup

223 Calories

0g Fat

0g Sat Fat

0mg Cholesterol

85mg Sodium

545mg Potassium

56g Carbs

5g Fiber

46g Sugar

3g Protein

6 WW+ Points
11 WW SmartPoints
Directions
Place all ingredients in blender and blend extremely well.
Serve cold.
Freezing Directions
Why would I want to freeze this?
Place all ingredients in a blender and blend extremely well.
Divide among indicated number of quart freezer bags. Label and freeze.
Serving Day Directions
Serve cold.