Apple Pie Pork Chops
I got this idea one night when I was trying to use up items in my freezer in order to clear space for my next cooking day. I had an apple pie kit and a some pork chops in my freezer and they just seemed like a perfect combination. It turns out I was right!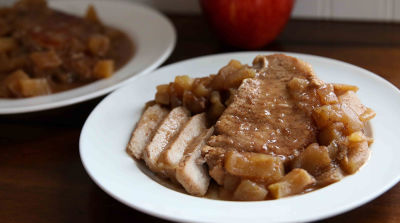 Ingredients
6 cups peel and slice Apple
¾ cups Sugar
1 ½ pounds Pork Chops, Boneless
Freezer Containers
Supplies
Directions
In a small bowl, mix together apples, sugar, flour, cinnamon, cloves and allspice.
Place pork chops in bottom of slow cooker.
Add apple mixture to slow cooker on top of pork chops.
Cook on low 6-8 hours or high 3-4 hours.
Freezing Directions
Why would I want to freeze this?
Divide all ingredients except pork chops into indicated number of freezer bags. Mix well inside bag.
Add pork chops into bags, label and freeze.
Serving Day Directions
Thaw. Place all ingredients in slow cooker and cook on low 6-8 hours or high 3-4 hours.