Mexican Pork and Sweet Potato Stew
"Easy peasy chicken breezy" I must have heard that phrase 50 times today. I'm up working in Montana for work for a few days and I love it. It's a different place up here but a good different. As I sit here in the hotel room it's comforting knowing that my boys had a great meal tonight for dinner even though I was no where to be found. They are munching on this stew. I premade it this weekend so all my husband had to do was dump it in the crockpot and press on as he left and tackled the daycare/school drop off today. I hope you enjoy it and are able to use some of those green chiles you see popping up in stores! It is so simple it's "easy peasy pork breezy".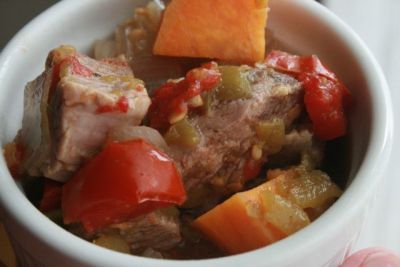 Ingredients
2 ½ cups dice Boneless Pork Loin
1 ⅓ cups peel and dice Sweet Potato
1 ¼ cups dice Onion
½ teaspoons Salt
¼ teaspoons Black Pepper

Serving Day Ingredients

1 tablespoon Lime
Freezer Containers
Supplies
Nutritional Information
1 serving = 279 Calories

Fat

2g Carbs

0.8g Fiber

35.2g Protein

Meal Type- S
Zone Blocks: 5 Protein 4 Fat 0 Carbs
Directions
Place all ingredients into slow cooker.
Cook on LOW setting for 6 to 7 hours.
Add lime juice and stir well.
Freezing Directions
Why would I want to freeze this?
Divide all ingredients into indicated number of freezer bags.
Label and freeze.
Serving Day Directions
Cook in slow cooker on LOW setting for 6 to 7 hours.
Add lime juice and stir well.