On April 25, 2015 by Kim
Meet our blog partner Wendy!
Wendy blogs at Around My Family Table. She can most often be found in the kitchen – she grinds her own grains, cooks from scratch, raises chickens, and has a garden! When she isn't cooking for her family, she is spending time with her husband and two children or leading Girl Scouts. In 2013, she was diagnosed with some severe food allergies, so her cooking style has evolved over the years. But every recipe on her site is still family tested, approved, and delicious.
Connect with Wendy on Facebook, Instagram, and Pinterest for more tasty recipes, but here are some of our favorites.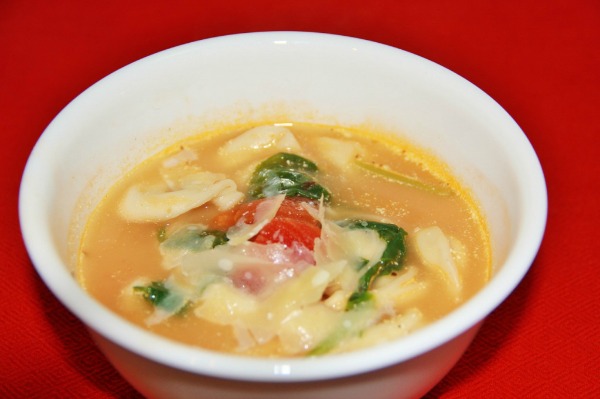 Original: Spinach Tortellini Soup (traditional, vegetarian, easy assembly)
Freezable: Spinach Tortellini Soup (log-in required)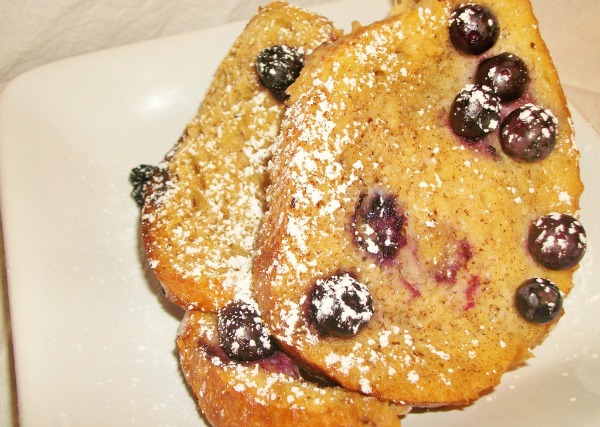 Original: Slow Cooker Blueberry French Toast (traditional, vegetarian)
Freezable: Slow Cooker Blueberry French Toast (log-in required)
Other recipes from Wendy include:
How long have you been blogging about food?
I've been blogging for almost six years about food on Around My Family Table.
Have you always loved cooking, or was it a skill that you learned to love? Who taught you to cook? 
I've always loved cooking. My mom taught me how when I was young. It really was a blessing because when I was in college I would cook really good meals and not just take out or boxed meals. I still say it was my good cooking in college that won my hubby's heart.
What is your favorite meal to serve to family and friends? What is your favorite treat to make for yourself?
My favorite meal to serve family and friends is probably a good steak dinner with all the fixin's. My favorite meal to make for myself would have to be chicken fried steak, mashed potatoes, cream gravy, and fried okra. It's definitely not something that I make all the time.
What is your favorite kitchen tool or gadget? Tell us a little about how you fell in love with it and how you use it in your kitchen.
My favorite kitchen tool is probably my santoku knife. I know y'all were expecting a crazy or super cool gadget, but if I could only have one tool it would be my knife. I use it for everything – from chopping vegetables to cutting apart a chicken. Invest in a high quality knife, and it will greatly improve your cooking skills. As for a actual gadget that I love, I really like my microplane. I use it for fresh nutmeg, grating ginger and garlic, and of course seating citrus!
When you are meal planning or looking for new recipes, what kind of guidelines do you follow or what inspires you?
Menu planning is always fun for me. I do a combination of 3/4 tried and true favorite meals and 1/4 new recipes. I'm inspired by restaurant menus, what produce looks amazing, and old cookbooks. Sometimes the recipes are a hit and sometimes not, but at least we tried something new.
What items are ALWAYS on your grocery list? What items will you NEVER put on your grocery list?
I almost always have avocados and salsa ingredients with a big bag of tortilla chips on my list. My family just can't seem to get enough chips and salsa. I never buy boxed dinners or anything with food dyes. Besides those, I never buy artichokes. They are just plain ol' gross.
Tell us the best kitchen tip or trick that you've ever discovered.
The best kitchen tip I've discovered is to never going to bed with a dirty kitchen. There is just something about waking up to a clean kitchen that just sets the mood for the whole day. It only takes 10 minutes to clean up after a big meal, so I try to always do it – even if I'm super tired.
What do you like to do when you aren't cooking or blogging?
When I'm not cooking or blogging, you'll find me enjoying the wonderful AZ outdoors with my family. We love to fish, hike, camp, and geocache. I also love organizing things, which drives the rest of my family crazy.
Have you ever freezer cooked? Share some of your favorite recipes or tips.
Yes, I've been doing mini-sessions since I was in college (about 20 years ago). Mostly, I double or triple a recipe, like enchiladas, and freeze the other two pans. My current favorites are making f
reezer smoothie packets
and grilling packets. The grilling packets have everything included, such as homemade seasoned patties, buns, and different cheeses.
Interested in being a featured Blog Partner with OAMM? Fill out our application today!