On April 26, 2012 by Erin Fullam
**This post is part of the Get Real series. Please remember that this is meant as a learning community. We know that many of you are passionate about what you do and we want you to express that, just please do so in a way that will be an encouragement and aid to others making a transition. We want this to be a "safe space" for participants to learn. For that reason, we reserve the right to delete any comments that are not handled in this manner.
Zero waste cooking? Is it possible? YES!
As we've mentioned before the Get Real series is a life transition that doesn't happen overnight. Even I am still a work in progress! We do not compost yet, we don't have a ton of space in our yard and I know my garden would love it but I just don't yet. There are compost pickup companies here in Colorado too, but I want to start our own possibly next year. One project at a time.
Then something comes along that gives you that little push. For me it came from blogger April Lewis Patel and her new eBook Don't Compost it, Cook it!  At first I laughed and said, "This is crazy." As I'm sure you all did when you read the title of this post! But once I started digging into the cookbook and reading I realized. I'm not doing anything too far from this already. Can I take it a step further and really create zero waste? Why not?
With our CSA shares the past two years, we've had several weeks where we've had an overabundance of produce or it either goes bad because of poor planning on my part, (OAMM confession right there). And I feel so bad when I have to toss it in the trash. But April's book gives you insight in what you can do with almost anything that comes along in your CSA box. She also talks about what to do if you cannot afford organic produce and still think about doing compost cooking without worry. Don't forget to use your dirty dozen list!
One of the easiest recipes for me to start my compost cooking were the broth recipes. I have started a bag for my veggie scraps and freeze it at the end of each night when I'm done. Same with our meat extras, and then we have the perfect and rich variety for stock! And her ketchup recipe is one that I'm gearing up for here soon with all of the tomatoes that are planned for our garden! Are you intrigued yet? I thought so!
***This discount is expired.***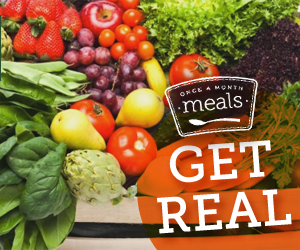 April is giving OAMM readers a special discount on her eBook! Enter in the code OAMC2012 and you'll receive your copy for only $1.99! Hurry though, this deal is only available through April 28th.
Don't wait the discount won't last long! Head on over today and tell me what will you compost cook first??
Disclosure: An Apple A Day provided me with a copy of the eBook for review. All the opinions in this post are mine, want to know more about how I facilitate reviews, view my full disclosure policy!