On November 6, 2011 by Kelly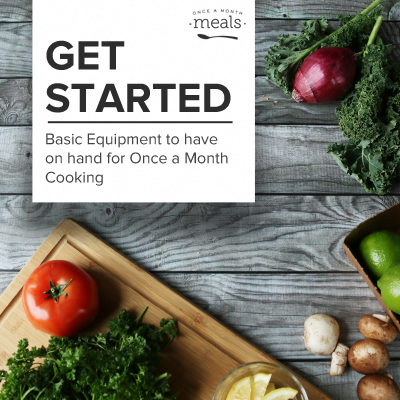 One of the most daunting tasks in once a month cooking is the first big cooking day. I don't think you can ever be truly perfectly prepared for that first try. Everyone tackles the process a little different and finds different tools critical. Most of them you'll already have in your home. But being a little more aware of the equipment necessary and the purpose of that equipment can save a few headaches (and borrowing trips to neighbors' houses). This list of once a month cooking tools will help you get prepared for that day.
I've broken down the equipment by stages of your OAMC big cooking day: Chopping, Measuring and Mixing, Cooking, and Packaging and Storing. I have also included how many we suggest as a MINIMUM (in parenthesis below) on your cooking day and suggestions for equipment to purchase, if necessary, also are included. You can also use this list to call around to your friends to ask if they have equipment for you to borrow. For example, you will likely need 2 slow cookers but might not have the room for two. I have borrowed one or two of these on many occasions.
The best step to take after consulting this list is printing off a copy and doing a kitchen tools inventory. Check off what you have and you know will work. After that, pencil in items that you think you can use instead of some of the items listed and highlight those items you think you'll definitely need to purchase. Also, feel free to browse through our Amazon store for items like these that we recommend both big and small.
Chopping
Measuring and Mixing
Cabinet Mount Recipe Card Holder (3-6): Whether you buy one or make one, have a way to attach your recipe to a cabinet or hold it up out of the fray. Another way to keep your recipes out of the mess work area is a Stand-Up Recipe Card Holder.
Measuring Spoons (2+ sets): I like to have two different sets (easily distinguishable either by material or color) so I can have a designated set for dry goods and a set for liquids.
Dry Measuring Cups Set (2+ sets): There is A LOT of measuring, you can never have too many!
Wet Measuring Cups Set (2+ sets): Same as dry measuring cups explanation.
Mixing Bowls (4+): Most of the time we use BIG mixing bowls if you are making 4 or more servings. So you can NEVER have too many of those on hand. Occasionally you will need medium and small mixing bowls but LARGE and EXTRA LARGE are by far the most in demand items on your day. And having several will ensure you aren't doing dishes every five minutes.
Mixing Spoons (4+): PC Bamboo Spoon Set – Same reasoning as mixing bowls.
Baking Spatulas (4+):  Silicone Spatulas Set or PC Classic Scraper – Same reasoning as mixing bowls.
Cooking
Rice Cooker: Cuisinart Rice Multi-Cooker with Fuzzy Technology (OAMM Review) for cooking rice cooker meals and large batches of rice. Or, at least a simple small batch Rice Cooker. Of course, you could do this on the stove and it varies by menu how important this is, but it is definitely nice to have on hand.
Slow Cooker (2-4 is great):  Hamilton Beach Set N' Forget 6- Quart Programmable Slow Cooker (OAMM Review) – Do I need to explain this? We use them ALL THE TIME. I don't think you can find one Once A Month Meals menu without a slow cooker recipe on it. Go ahead. Try.

Already have slow cooker(s), but not with a timer? Plug your slow cooker into an Easy-to-Set Electronic Lamp Timer to time your meals just like a programmable slow cooker would.
Slow Cooker Liners: These are not essential, but can cut out a lot of cleanup and allow you to cook multiple slow cooker dishes in one crock more easily/quickly.

Foil Baking Pans or Glad OvenWare and/or and extra set of Baking Pans you're willing to freeze. (See grocery lists for quantity needed).
Large Skillets (2): Cuisinart Chef's Classic 5-1/2-Quart Saute Pan – There are a lot of stove top recipes and as long as you have 4 burners on your stove, there is a good chance you will be using up half the space with skillets at any given time.
Large Stockpots (restaurant size) (1): Prime Pacific Trading 12 and 16 Quart Stockpot Set – You can get just a 12 quart too, as that has worked for me in the past cooking for 4 servings. It is DEFINITELY essential to have at least one of these on hand for large batches of sauces, pasta, etc.
Saucepans (2-4): Any will do.
Colander (2): Corelle 5 Quart Colander or PC Colander Bowl Set – You might be able to get by with one but I would recommend two for all the pasta recipes.
Muffin Tins (2-4): Farberware 12-Cup Muffin Pan – Especially if  you cook for 4+ servings. We are often making double and triple batches. It is always nice to have a set or two in the oven cooking and a set or two staged to go in as soon as those come out. It just makes things more efficient. Again, you can borrow these too from a friend.
Sheet Pans (2-4): Chicago Cookie/Jelly Roll Pans, Set of 2 – Same as muffin tin explanation.
Wire Cooling Racks (2-4): Wilton 3-Tier Cooling Rack – Same as muffin tin explanation.
Cooking Spatulas (1):  Oxo Good Grips Nylon Flexible Turner – Menus vary in terms of items that are grilled or on the griddle so you can probably get by with just one.
Packaging and Storing
Containers and Freezer Bags: You can also use Long-Term Reusable Containers and Reusable Insulated Freezer Bags, but be sure to have enough on-hand to leave in the freezer over the month.
Avery 8168/5168 Labels: It seems like a bit of an extravagance to print out "fancy schmancy labels" sometimes, but being able to attach the directions for reheating and a nice, clear easy-to-read label is priceless when tackling once a month cooking.
Collapsible/Portable Table: You don't have to go rush out and buy a new table, but either look around at thrift stores (or even in your garage) for something you can use to set up your ingredients, dishes and (finally) your packaged meals during your OAMC big cooking day. Keeping a Command Station of sorts separate from your standard counter space is really helpful.
Anti-Fatigue Mat: Not critical, but a big help for those long OAMC big cooking days!
Note: This post contains affiliate links.