On March 21, 2015 by Kim
Meet OAMM member Jenny! She is a mom of 2 who works part time and freezer cooks to ensure there are always dairy free freezer meals for her son with lactose intolerance.
How long have you been once a month cooking? How did you discover OAMM?
I have only been once a month cooking since January 2015. I am a freezer meal newbie! I found out about OAMM through a friend on Facebook. She shared a link to a meal recipe and said that once a month cooking was going to be her New Year's resolution. I was intrigued, as I had been thinking about freezer cooking for a while, but hadn't yet found something that would work with my family's dietary restrictions. Once I visited the OAMM site, I was hooked!
What circumstance pushed you to give once a month cooking a try? How has choosing to OAMC benefitted you and your family?
I do all of the cooking in my house. My husband is good at many things, but cooking is not one of them, which he will freely admit. We have two young children, ages 4 and 1, and the times that I had a meeting or somewhere I needed to be at dinner time, my husband found it challenging to feed them something easy and healthy for dinner. With once a month cooking, I am able to freeze lots of meals ahead of time, complete with instructions right on them, that my husband can easily follow by himself.
OAMC, specifically with OAMM has been a huge benefit to our family. Less than a year ago my son (who is almost 2) was diagnosed with a very severe lactose intolerance. He cannot have any dairy products, aside from the few that are made specifically to be lactose free. This posed a huge challenge to me in freezer cooking. I knew I wanted to try it, but so many of the other sites I had tried had lots of cheese, cream soups, and other dairy products in their recipes.
I am a stay at home mom, but I also work two part time jobs, and weeding out all of the dairy in the recipes was overwhelming to me. When I found OAMM I was thrilled with the dairy free options available. Even when I am not freezer cooking, there are so many delicious dairy free recipes for me to try.
It has been a huge relief to know I can cook meals ahead of time that are safe for my son to eat, which removes a lot of the stress I felt when I was not the one home cooking for him. OAMC cooking is also nice when I've had a long or stressful week, and I just want something easy to prepare.
What is your favorite OAMM resource?
My favorite OAMM feature is the swappable menus. Combined with the large number of dairy free recipes, the ability to recipe swap is hands down the number one reason that I joined OAMM. Many of the other OAMC cooking sites and blogs have delicious recipes, but they simply won't work for my family's dietary restrictions.
I was overwhelmed with the task of substituting and removing dairy items from so many recipes. With OAMM I can easily start with a menu, and then swap out the recipes that won't work, and the shopping list automatically updates. It has saved me both time and stress! It has made dairy free cooking both manageable and enjoyable for our whole family.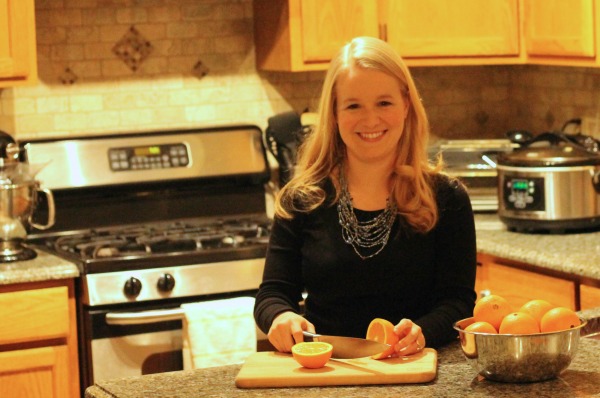 Give us a brief introduction to your kitchen.
My kitchen is fairly small. We don't have very much counter space. On cooking day, I remove all our counter top appliances (which was a tip that OAMM sent to my email before my big cooking day!) and I also utilize my dining room table for all the recipes that need to cool before freezing.
I found the email tips sent by OAMM prior to my first cooking day to be extremely helpful. I would not have thought to clear the counters and empty the dishwasher first, and both tips saved me a lot of headaches!
What is the number one tip that you would give to a first timer?
Take the time to read all of the tips that OAMM sends you before you start cooking. I felt very prepared after reading through what to expect, and it suggested things that I would not have thought of. When you have a small kitchen, it is all about strategy and using every available space!
Tell us about a time when you experienced an OAMC or cooking fail.
My OAMC fail the first time was cooking too many dishes that were similar. I was excited to swap recipes, but I didn't think about how similar teriyaki chicken, oriental chicken, and orange chicken were going to be! I got sick of chicken before the month was over. Now I know I need to think ahead about planning a variety of meals, even when I swap recipes.
Great tip, Jenny!
Do you involve other people when you OAMC?
One thing I love about OAMC is how I am able to help other people who need a meal without causing myself a lot of extra stress. When a friend of mine spent a few days in the hospital unexpectedly, I was able to run to my freezer, grab a couple of meals, and bring them over to her house to help her husband and kids as she recovered. They appreciated it so much, and it was so easy for me to do. I really love that aspect of OAMC.
I also employ my husband on prep night. When my fingers simply can't chop another onion or peel another potato, he takes over. He might not love cooking, but he can sure peel potatoes!
How is OAMC hard? How does it make your life easy?
The hardest part of OAMC is setting aside the big cooking day. Since my kids are so young, I have to schedule it on a weekend when my husband is home to occupy the kids. OAMC cooking with little ones running underfoot simply does not work! So carving out that time can be a challenge.
OAMC makes my life easier in so many ways. When I am tired, or sick, or running around with a busy schedule, OAMC means I have an easy home-cooked meal that takes very little effort to prepare. Before OAMC, if I didn't cook dinner, we ate out or made frozen pizza. Now, our family saves money in the long run because we don't need to eat out as often, and we're eating healthier too.
But the biggest relief is knowing that I can prepare meals that are safe for my son to eat, and that no matter who is caring for him, they can feed him a healthy meal without worrying. I have told all of my family and friends about OAMM, especially my friends with food allergies or other dietary restrictions. It is the most flexible, customizable, and easy to use OAMC cooking program I have come across. It was so much easier than I thought it would be, and I am absolutely hooked! I can't wait to try even more new recipes this month.
Thank you so much for that lovely review, Jenny! Our goal is to make OAMC easy for everyone, even those with food allergies, intolerance, and special diets. If you fall into one of those categories, please check out our Allergen Menu, new for 2015.