On October 13, 2017 by Once a Month Meals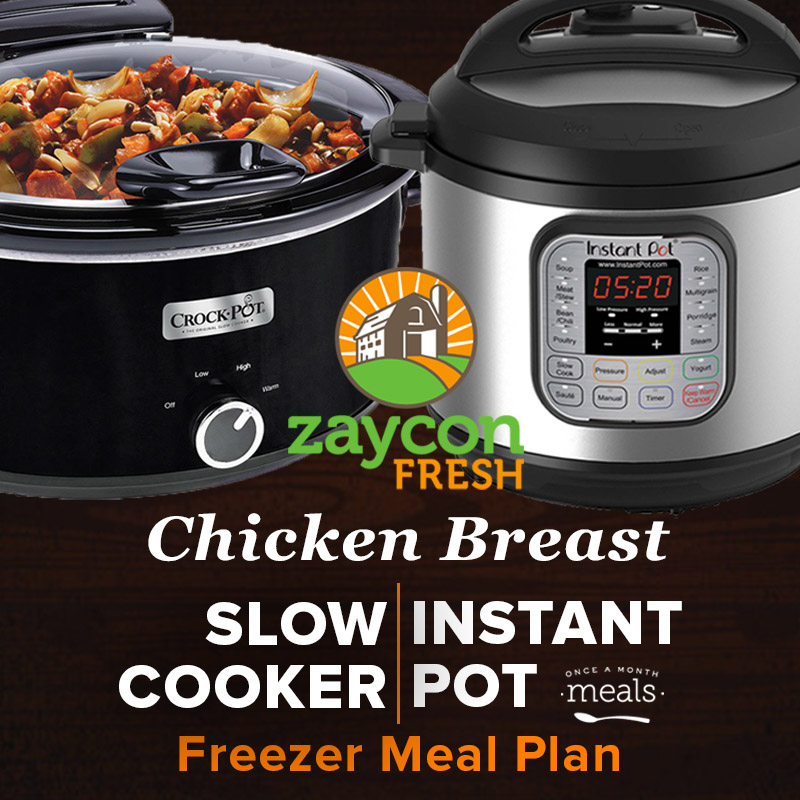 Use all 40lbs of your Zaycon Chicken Breasts at once using these Easy to Assemble Slow Cooker or Instant Pot Chicken Breast Freezer Menus.
*So you know, we are an affiliate with Zaycon, but we only do this with products and brands we 100% trust. AKA if we love it, we think you will too!
What's Inside:
About These Menus
There are 11 to 12 easy-to-assemble chicken breast recipes in each menu, meaning they are all literally "throw-n-go" recipes you can put together FAST.
If you set this menu to 4 servings, it will use all 40lbs of your Zaycon chicken.
If you want to do less than 4 servings: increase the amount of recipes to get to the 40lbs.
If you want to do more than 4 servings: remove a few recipes from the menu to use only the 40lbs.
Mix and match recipes from each menu as a member! 

See Instant Pot Menu »  See Slow Cooker Menu »
How To Cook This Menu (and Fast!)
With a membership, your menu comes with:
A Grocery Shopping List organized by category for faster and easier shopping.
Prep Instructions to help you prepare all your ingredients ahead of time.
Step-by-step Cooking Day Instructions for fast and efficient freezer cooking.
Individual Recipe Cards with detailed cooking and freezing instructions.
Printable Labels for your freezer bags with thawing and reheating instructions.
A Thaw Sheet for a full list of your menu's defrosting or reheating instructions.
Adjust the Serving Size!
You can also adjust this menu to whatever serving size you need! Freezer Cook for 1, 2, 3, 4, 6, 8, 10 and more (as well as anything in-between!)