On April 1, 2019 by Kelcey Flynn
Fast and Easy-to-Assemble SPRING Instant Pot OR Slow Cooker Freezable Recipes!
Enjoy these 10 Easy-to-Assemble Slow Cooker OR Instant Pot Recipes that Double to Make 20 Freezer Meals! (And put together in less than 2 hours!)
Put these 20 Spring meals together in under 2 hours! That is 20 meals, already prepared, assembled in 6 minutes per meal, straight into your freezer that last anywhere from 6-8 months. Trust us. This is worth both your time and money!
2 Menus. The Same Recipes. You choose the appliance!
And you can mix and match recipes from each as a Once A Month Meals member!
Both menus include the same set of recipes, and you prepare and assemble them in the exact same ways. However, they have different methods of cooking. Any one recipe can be made in either the slow cooker or the Instant Pot. You choose! See the full menus below!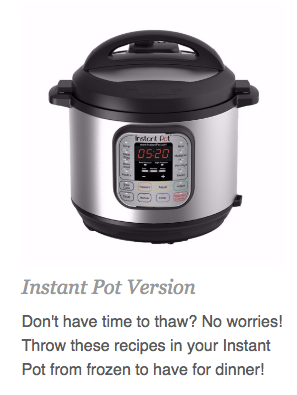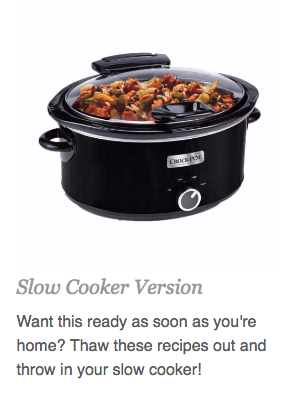 SEE INSTANT MENU » SEE SLOW COOKER MENU »

How To Cook This Menu (and Fast!)
With a membership, your menu comes with:
A Grocery Shopping List organized by category for faster and easier shopping.
Prep Instructions to help you prepare all your ingredients ahead of time.
Step-by-step Cooking Day Instructions for fast and efficient freezer cooking.
Individual Recipe Cards with detailed cooking and freezing instructions.
Printable Labels for your freezer bags with thawing and reheating instructions.
A Thaw Sheet for a full list of your menu's defrosting or reheating instructions.

Adjust the Serving Size!
You can also adjust this menu to whatever serving size you need! Freezer Cook for 1, 2, 3, 4, 6, 8, 10 and more (as well as anything in-between!)
Watch Us Make This Menu LIVE