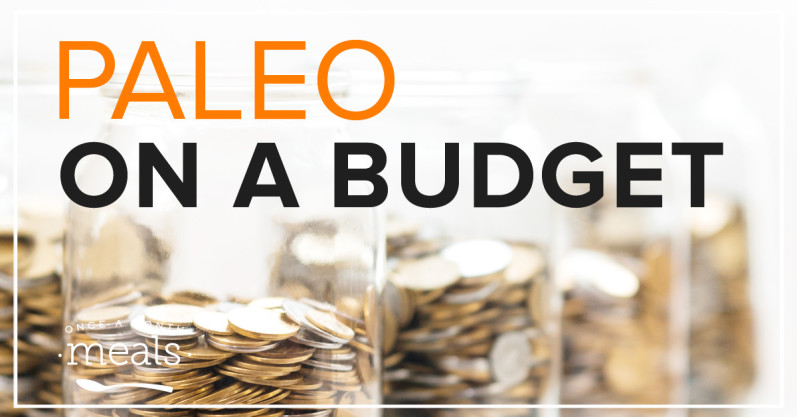 The first time you went shopping after deciding to try Paleo, you probably croaked at the size of your grocery bill. Since you were more than likely purchasing completely different foods than before cleaning up your diet, starting over with a Paleo approved pantry can be quite a task. Of course, the same is true for any "diet".
Once Paleo becomes a lifestyle, the grocery budget eventually evens out. You notice that the bulk of your grocery list is almost always comprised of the same items: beef, chicken, pork, fish, eggs, almonds, almond flour, other nuts, olives, coconut, coconut flour, coconut milk, in-season fruits and vegetables, herbs, spices, and occasionally a few condiments like honey and coconut aminos. Simple. Quick. Easy.
The good news about a streamlined grocery list, is that you can track how much of each item you consume in a given time period, track sales cycles, and determine best prices for each. By creating a master grocery list with the items you use most often, you should be able to update the list with the date, place purchased, amount consumed, and dollar amount spent per pound. After a few months, you'll be able to determine when and where to get the best price for each item.
There are a few additional ways you can save money on Paleo approved foods other than finding the best deals at the grocery store. It really is possible to eat Paleo on a budget.
1. Turn the whole into parts.
One of my favorite methods for saving money is to use every last bit of what I buy. For example, did you know there is more to chicken than the breast? I say that a little tongue in cheek, but it seems like we've been conditioned to think eating a chicken breast is the only way to go. I personally like to buy a whole chicken, cook it in the slow-cooker, remove the meat, use the caracas to make chicken stock, and use the leftover fat to cook future meals. The same thing can be done with beef, venison, or buffalo.
When it comes to all of the almond and coconut products that can be eaten on the Paleo diet, you can make almost all of them at a fraction of the cost just by using the original product. Almond flour, almond butter, and almond milk can all be made from raw almonds. The same is true for coconut. Coconut flour, coconut butter, and coconut milk can all be made from whole coconuts or even unsweetened coconut flakes. I know that's a lot of info so let's recap with a nice, easy list.
Whole Chicken:
shredded chicken
chicken stock
cooking fat
Whole Cow (or a portion):
beef
beef stock
cooking fat
Whole raw almonds:
almonds
almond flour
almond butter
almond milk
Coconut flakes:
coconut
coconut flour
coconut butter
coconut milk
2. Buy in bulk.
We all know that you can often get a cheaper price per pound when you buy in bulk. One way to do this is to stock up when meat is on sale at your local grocery. If the cheaper cuts of meat are on sale, don't hesitate to grab them all. Just cook those in the slow-cooker, and it will be so tender no one will know the difference! Keep in mind that you can also call your store to find out when they mark down food. Once you know the day and time, get there early and grab all you need.
There are certainly challenges to buying in bulk like knowing where to purchase large quantities as well as knowing how and where to store such large quantities. Ideas on where to purchase meat, almonds, coconut, and coconut oil in bulk are listed below. However, keep in mind that you don't necessarily have to keep bulk purchases for yourself. Go in with a friend or even a group to split the cost. Having like minded Paleo friends can certainly benefit the wallet!
3. Buy direct.
When possible, cut out the middle man. Buying almonds, chicken, beef, eggs, and produce directly from the farmer, instead of a grocery store, will give you a higher quality product and more bang for your buck. If you're new to buying direct, it could take some work to find local providers. But don't hesitate to ask around; you never know what resources you'll find.
I recently went in with a group to purchase a cow. It was a local(ish), pastured, grass-fed and grass-finished cow. The price per pound was $4.35. If you're used to buying traditional ground beef, then that price may seem a bit high. However, this was extremely high-quality beef, and there was only a portion ground. The majority of the beef contained various cuts of roast, steak and ribs, plus extra bones to make bone broth, Tallow and liver were also included in the order. I think that almost everyone should agree $4.35/pound is a great price for those cuts of meat.
If buying a portion of a cow (or any animal for that matter) seems a bit extreme right now, you may want to consider starting with a CSA (Community Supported Agriculture). There are CSA's for beef, chicken, pork, eggs, produce and more. You'll pay for it upfront, but you'll receive a weekly portion for the duration of the season.
4. Buy online.
Buying online is one of my favorite ways to shop, mostly because time is a premium, and having things delivered to my front door saves tons of time. But the added benefit is that I don't have to take two wiggly kids with me to the store! Subscribe and Save on Amazon is an easy way to save time and money.
I recently purchased a case of Organic Unsweetened Coconut Flakes using the subscribe and save option. At first, I thought 42 cups of coconut flakes would be excessive. However, by the time those flakes are used to make coconut flour, coconut butter, and coconut milk, they get used up very quickly.
You can also purchase high quality, Unrefined, Extra Virgin, Raw, Cold Pressed or Centrifuged Pressed Coconut Oils in bulk from places like Wilderness Family Naturals. If you buy six containers of coconut oil by the gallon, the price per ounce goes down considerably. Pull together six of your closest coconut oil loving friends, and you'll be set for quite a while. Did you know that you can also buy almonds directly from a farmer online? Do a quick Google search to find a list of options.
5. Buy in season.
In season produce is the most plentiful. So plentiful in fact, that the price is reduced dramatically, so consumers will grab it up fast. If you have freezer space or like to can foods, stock up when fruits and veggies are at their rock bottom price, so you can eat from your surplus year round.
6. Choose frozen over fresh.
Farmers and manufactures freeze produce during peak season to make it available year round. That's why you can often buy frozen fruits and vegetables for less than what you can get in the produce isle. It's not always the case, but it's worth the comparison when your at the grocery store.
7. Grow your own.
Gardening is one thing I'd like to take up this year. Granted, it won't be a large garden. But something like an indoor herb garden is something simple that even I can do to shave quite a bit off the grocery budget year round. I've even considered a patio sweet potato container garden. For those of you with a greener thumb than mine, you already know the benefits of growing your own fruits and veggies. It does cost you time, but if you have more of that than cash, a garden will certainly reduce your grocery budget. Trees are also a simple way to grow your own food. Most think about fruit trees, but have you ever considered planing a couple almond trees? I've never planted one myself, but I'd love to give it a try!
8. Keep the menu simple.
I alluded to this earlier, but if you have basic ingredients, you can use spices to drastically change the same basic meal. Cook a huge amount of chicken or beef and change up the spices to give it a Mexican, Asian, Indian, or American flare. Add a different veggie each night of the week, and your family will never know how easy it was to prepare the meal.
9. Eat less.
Of course eating less will save money. But that's easier said than done, right? I don't know about you, but when I eat clean, I eat less. Of course, there's the initial withdrawal from junk food, but after a few days, I almost have to force myself to eat. My stomach shrinks, and I'm no longer tempted to snack 24/7. When I'm eating a strict Paleo diet, I really do eat to live, not live to eat.
10. Plan ahead.
Meal planning is key when keeping to your budget and sticking to your goals. Why not have us do the work for you? We have created two different paleo mini menus to help you get your feet wet into freezer cooking and starting in January 2013 we have a monthly paleo menu for you to enjoy! Get started today!
Those are some of my favorite ways to stick to a budget when eating Paleo, but I'd love to hear from you too! How do you save money on your Paleo grocery bill?