On January 25, 2019 by Once a Month Meals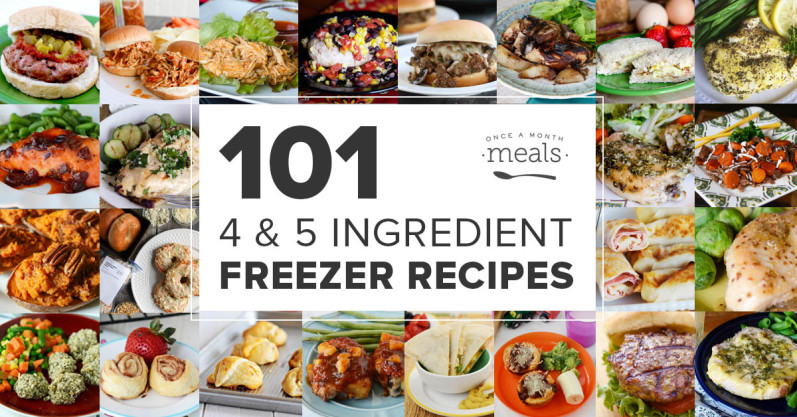 Please tell me I'm not the only one whose freezer has been running low on freezer meals. It's witching hour and I'm contemplating another glass of wine or another cup of coffee and wondering how I'm going to feed all these hungry people (including myself). So I stand in the kitchen and sip my beverage of choice while scrolling Pinterest for EASY four or five ingredient recipes – hopefully, and preferably ones I already have! Anybody else? 🙋🏽
Since we've been there and we know what it's like, we decided to help and round up 101 four and five ingredient recipes for you! The best part is they are ALL freezer-friendly so you can plan a cooking day and hopefully won't end up hopeless in the kitchen with a glass of wine!
Make a Menu and Meal Plan With These Recipes!
With membership, you have access to all our recipes (including these!) and ALL our menus! You can customize one of our already curated menus, or create your own from scratch using our blank menu, My Freezer Meal Plan! You could even use this list to make a 4/5 ingredient menu!
You're not locked into any one plan or menu type. You can save 5 customized menus at a time, and there is no limit to how many you can customize in a month.
LEARN MORE CREATE A CUSTOM MENU
Check out all 101 Four and Five Ingredient Freezer Meal Recipes!
Please note: We did not count salt, pepper, or water as an ingredient!
Happy cooking!
To view the freezer version of our blog partner recipes, you will need to log in with your Once a Month Meals Membership.
(*) Next to a recipe indicates that you can ACCESS NOW without a paid membership.
KID-FRIENDLY
1. Toddler-ific Pizza Snack Cups
2. Mom's Sloppy Joes
3. Toddler Chicken Bites
4. Baked Chicken Nuggets
5. Kid Friendly Chicken and Broccoli Quesadilla
6. BBQ Chicken Bites
7. Ham and Cheese Egg Rolls
8. Homemade Poptarts
9. Corn Dog Muffins
10. Homemade Uncrustables*
11. Ham and Cheese Picnic Pinwheels*
12. Kid Approved Breakfast Burritos
13. Kid Friendly Chicken Pesto Wraps
14. Homemade Pancake Mix
SLOW COOKER
15. Crockpot Ranch Pork Chops*
16. Slow Cooker Philly Cheesesteak Sloppy Joes (freezer version)
17. Crock Pot Brown Sugar Pineapple Ham (freezer version)
18. Slow Cooked Buffalo Chicken*
19. Slow Cooker Steel Cut Oats
20. Easter Pork Loin
21. Creamy Chicken with Mushrooms
22. Slow Cooker Balsamic Chicken with Pears and Mushrooms
23. Slow Cooker Thai Beef
24. Gluten Free Dairy Free Pesto Ranch Chicken
INSTANT POT
25. Instant Pot Maple Mustard Chicken
26. Instant Pot Buffalo Chicken Lettuce Wraps – Traditional Version
27. Instant Pot "Light" Cream Cheese Chicken
28. Instant Pot OAMM'S Favorite Beef Pot Roast
29. Instant Pot Buffalo Chicken*
30. Instant Pot Creamy Italian Chicken
31. Instant Pot Cranberry Chicken
32. Instant Pot Ranch Pork Chops*
33. Instant Pot BBQ Beef Sandwiches
34. Instant Pot Pesto Ranch Chicken*
BREAKFAST
35. Breakfast Quinoa (freezer version)
36. Gluten Free Dairy Free Breakfast Bites
37. Strawberry Pancakes
38. Blueberry and Peach Empanadas
39. Paleo Beef Sausage and Broccoli Egg Muffins
40. Breakfast Tortilla Roll
41. Tater Tot Casserole Muffins
42. Blueberry Breakfast Grilled Cheese*
43. Gluten Free Dairy Free Omelet in a Cup*
44. Warm Cinnamon Swirls
VEGETARIAN
45. Vegetarian Buffalo Chicken Bagel Pizzas
46. Twice Baked Sweet Potatoes
47. Spinach Pie
48. Creamy Tomato Basil Pasta
49. Vegetarian Bacon Avocado Melt
50. Slow Cooker Vegan Pesto Chicken
51. Chilled Spaghetti Salad
52. Vegetarian Cheeseburger Cauliflower
53. Tomato Tortellini Soup
54. Spinach Mushroom Breakfast Wrap
GLUTEN FREE DAIRY FREE
55. Gluten Free Dairy Free Pesto Ranch Chicken
56. Gluten Free Dairy Free Maple Mustard Chicken*
57. Gluten Free Dairy Free Slow Cooker Chicken Caesar Sandwich
58. Gluten Free Dairy Free Lemon Chicken*
59. Gluten Free Dairy Free Southwest Chicken Burgers
60. Gluten Free Dairy Free Zesty BBQ Chicken
61. Gluten Free Dairy Free Chicken Pinwheels
62. Gluten Free Dairy Free Santa Fe Chicken Packets
63. Gluten Free Dairy Free Buffalo Chicken Lettuce Wraps
CHICKEN
64. Easy Sour Cream Chicken Enchiladas (freezer version)
65. One Dish Queso Chicken Bake (freezer version)
66. Cream Cheese Chicken
67. Black Bean and Corn Chicken Taco Bake (freezer version)
68. Pineapple Salsa Chicken Bake
69. Paleo Buffalo Chicken Wings
70. Spicy Peach Chicken Sliders
71. Peachy BBQ Chicken
72. Buffalo Chicken Rolls
73. Pesto Ranch Chicken
74. Grilled Spinach Stuffed Chicken
75. Paleo Garlic Ginger Chicken With Bok Choy
76. Light Cream Cheese Chicken
77. Chicken Alfredo Pierogie
78. Chicken Stuffing Bake
79. Cranberry Chicken
80. Sun-Dried Tomato and Goat Cheese Stuffed Chicken*
81. Summer Chicken Salad*
82. Teriyaki Honey Chicken
83. Honey Mustard Grilled Chicken
84. Grilled BBQ Chicken Quesadillas
85. Paprika Chicken and Rice Bake
86. Instant Pot Zesty BBQ Chicken
87. Grilled Cilantro Lime Chicken*
88. Mexican Chicken
89. Spicy BBQ Stuffed Chicken Breast
BEEF
90. BBQ Beef Sandwiches
91. Meatballs with Amazing Sauce (freezer version)
92. Easy Hand-Held Pot Pies (freezer version)
93. Easy Pinwheel Steaks (freezer version)
94. Italian Beef Sammies
95. Queso Mac and Cheese
96. Ranch Cheddar Burgers
97. Buffalo Bleu Cheese Burgers
98. Tomato Basil Hamburgers*
99. Bacon Bleu Burgers
100. Kaylee's Casserole
101. Tacos in a Sleeping Bag
Additional Resources: