On April 9, 2017 by Tricia
Making Time for What Matters Most
Our goal is to help you make meal plans and menus with delicious and freezable recipes ahead of time, so you have more time in your life for what matters most to you. Can we get an amen?!
We all want to spend less time cooking and feeding our family, and more time actually spent WITH our family.
Therefore, in the spirit of enabling you more time with your family through our freezer cooking membership, we want to help make suggestions on how you can enjoy that extra time!
Homemade Handprint Ornaments
This year for Christmas, we wanted to do a homemade craft with my 8-month-old daughter, Zoey…but I was completely perplexed as to what we could do that would actually involve her!
Luckily for me, I have some really crafty friends, and my friend Jessie (who happens to be a super-awesome mom to twins) inspired me by trying homemade handprint ornaments with her little ones, who are just a month older than Zoey. While Zoey wasn't the most willing participant, we did manage to get several really cute ornaments that will make great gifts for grandparents and aunties for the holiday season!
You can also make these for Mother's Day, Father's Day, Grandparents Day, Christmas, Teacher Appreciation and so much more!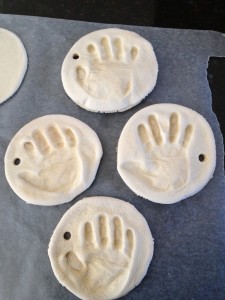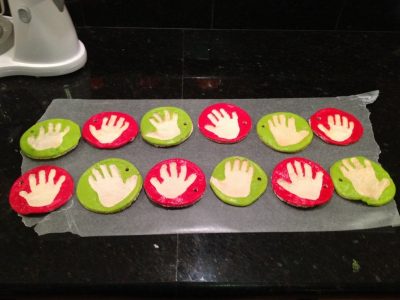 Ingredients:
1 cup flour
1/4 cup salt
7 tbsp water
Round cookie cutter (I used a drinking glass instead)
1 drinking straw
Craft paint
Ribbon
Directions:
Preheat oven to 300°F.
Mix together flour, salt, and water.
Knead for 15 minutes (or use the dough hook on your stand mixer – so easy!).
Roll out the dough to no more than 1/4-inch thick, then use the cookie cutter (or glass) to make rounds.
Press child's hand into the dough. (TIP: If you're doing this with really little ones, you may have to go back and make deeper impressions of their hands with your fingers or a kitchen utensil–the deeper the impression, the better your ornaments will turn out!)
Use a straw to poke a hole in each ornament (this is where the ribbon will go later).
Place on a baking sheet and bake for 40-45 minutes, until golden.
Wait for ornaments to cool, then paint as desired and thread a ribbon through each straw hole to create ornament hangers.
Servings:
1 batch will yield approximately 6-8 ornaments.