On April 30, 2016 by Kim

If the thought of serving allergy friendly meals is overwhelming, let us help ease your load with these tips for allergy friendly freezer cooking.
Getting a meal on the table can be stressful in itself, but add in food allergies or sensitivities and you can start to feel like a home-cooked meal is virtually impossible. And freezer cooking wouldn't help because that is all casseroles filled with [name your allergy or allergies here]. WAIT – that isn't true! You can freeze so much more than casseroles, including allergy friendly meals of all kinds. In fact, freezer cooking can help take some of the stress out of cooking allergy friendly food because you always have something to eat even when you are busy, traveling, with friends, etc.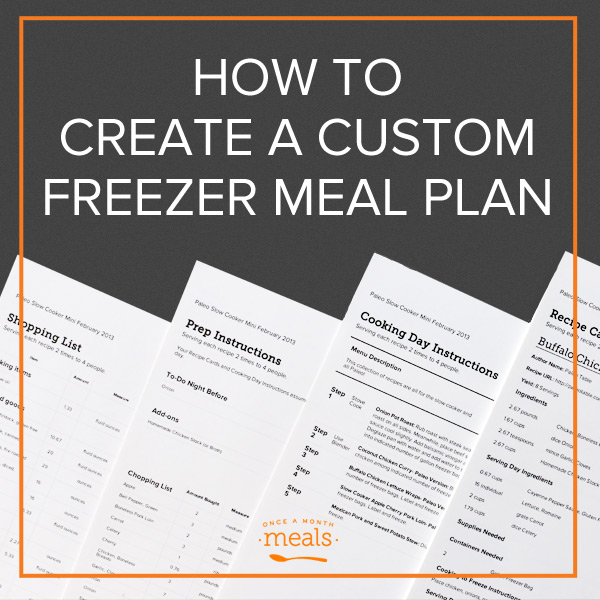 Use menu builder to create a custom freezer meal plan.
We have been curating our Allergen Menu for over a year now, so there are lots of ready made menu options to save you time. We rotate through six specific allergy friendly menus, so there is some variety. But food allergies don't always play fair. Sometimes they break the rules. Some of you are allergic to eggs and fish. Some of you are gluten sensitive, but not sensitive to dairy. Some of you are grain intolerant and you can't eat nightshades. And I'm just going to say it, some of you are allergic to weird stuff!
Enter menu builder. With menu builder, you can create a custom freezer meal plan that meets your exact needs. You can start with one of our ready made menu options, and then swap out recipes as needed. To find new recipes, you can search using descriptive tags, by meal type, or by ingredient. The link above will give you step by step instructions, but a few specific tips for allergy sufferers:
Use the descriptive tag that best describes your allergy first, for example, "egg free", "nut free", "low FODMAP", etc.
Additionally, you can choose a menu tag that works for you and your family. "Real food" and "paleo" work well because they involve cooking from scratch instead of packaged ingredients, but you may combine with others as well! For example our vegan recipes are meatless and egg and dairy free.
You can't search by eliminating ingredients you don't want to eat, BUT you can search for ingredients you DO want to eat. Allergic to seafood? Enter "chicken" in the keyword box to find only chicken recipes.
Please note that some of our recipes come from other sources. You may see allergens if you click over to the original recipe, but our freezer adapted recipe has been changed and tagged to reflect the allergy free version. 
ALWAYS double check ingredient labels.
There are some ingredients out there that are sometimes safe and sometimes not. Take for example soy sauce, which typically contains wheat unless you specifically buy the GF version. Another example is oats, which are naturally gluten free, but must be certified because most oats are gluten contaminated. Some packaged items do not contain allergens, but they have warnings that they have been processed in the same facility as an allergen!
When one of these ingredients is listed in an OAMM recipe, we will always indicate that you purchase the safe ingredient (i.e. gluten free soy sauce, certified gluten free oats, etc.) But it is always up to you to be vigilant in checking labels at the grocery store! You don't want to freeze a bunch of food, and then realize later you can't eat it.
Focus on meals that are a struggle for you.
When you are creating a menu, cook meals that will be a particular help to you. Make your freezer meals fit your life. For example, your go to breakfast for the kids has always been cereal, but after a celiac diagnosis, you don't know what to feed them. If you are always stumped on breakfast, then focus on stocking the freezer with breakfasts to eliminate stress in the morning before school.
Here is another example. You have always eaten take out with the office on work days, but since your allergy diagnosis, you can't trust any of your favorite restaurants. Packing lunch has become a terrible drain. Create your own mini menu of 5-6 lunch recipes (recipes are doubled) to give you two weeks of lunches that can go straight from the freezer to the office!
Again, menu builder will help you with this as you can filter recipes by meal type and even by cooking method to help reduce the number of hours you spend in the kitchen.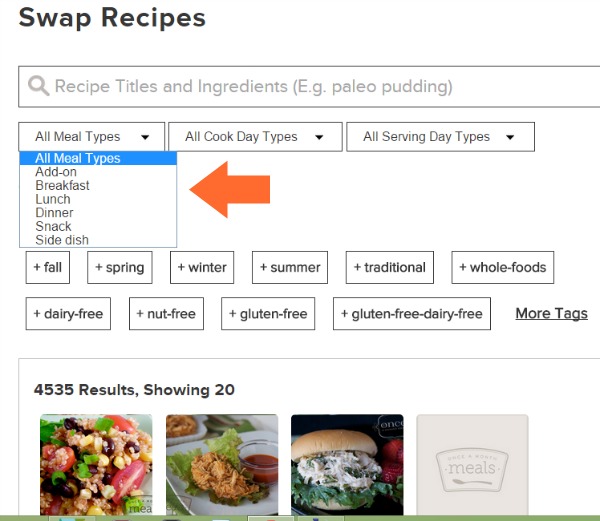 Label meals accurately and keep an updated inventory.
We provide printable labels among our freezer cooking documents. But if you are cooking for multiple family members with different needs, you may need to make additional notes. Use colored markers or different container types to code your meals so you can grab them at a glance. Or add additional notes to your labels in case someone other than you is in charge of serving the meal.
You can use our freezer inventory worksheet to make additional notes and post them on outside of the freezer. It also helps you know when you are getting low on easy, allergy friendly meals so you can plan your next cooking day.
Take your freezer meals with you.
Eating away from home is a particular concern for those with allergies and food sensitivities. But you can remove the anxiety of packing school lunches, lunch at the office, vacations, and social gatherings by learning how to cook and package single serving freezer meals. Having these ready to go in the freezer means that you can eat safely on the go even at a moment's notice.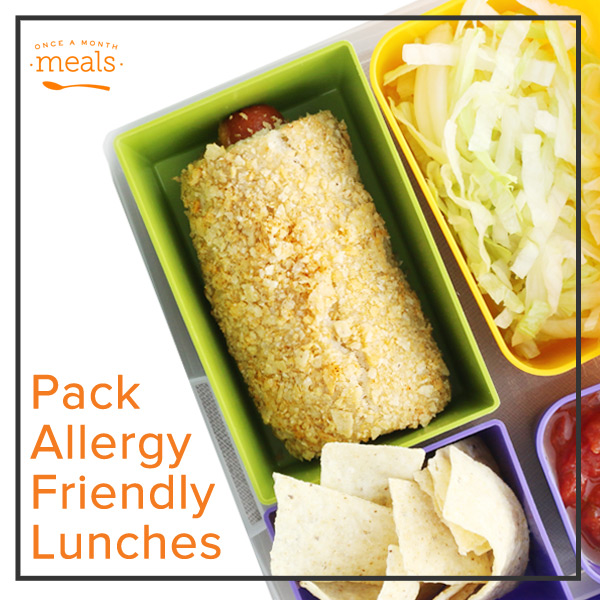 More Allergy Friendly Resources