On August 2, 2015 by Kim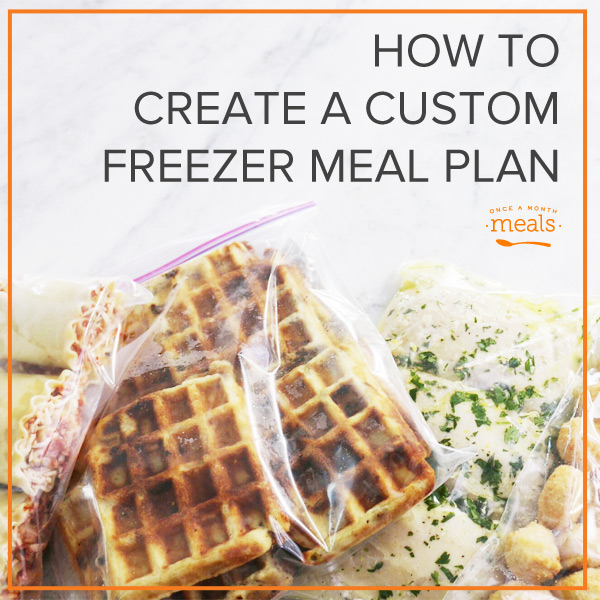 Not everyone has the same needs when it comes to freezer cooking. Our members are stay at home moms of many and expectant parents; college and graduate students; 20-something careers and entrepreneurs; traditional cooks and those cooking for special allergies; couples with no children and retirees; cross fitters and even dads! We create a number of different menus to meet the biggest needs, but nothing beats a custom freezer meal plan.
Our membership allows you to choose from over 6,000 recipes to create your perfect menu, but how does it all work?
Learn how to create custom freezer meal plans with your Once a Month Meals Membership!
We get lots of questions about exactly how to create custom menus, so today we will walk you through the process step by step!
1. Make a Menu
There are four ways to make a menu:
Our Recommendation:
If you are completely new to freezer cooking, you should

start small

by cooking one of our Mini Menus.
Mini menus (5-6 recipes doubled to 10-12 meals) are shortened versions of our full menus (15 recipes doubled to 30 meals). They also tend to be designed for specific seasons or occasions, such as an all breakfasts or side dishes, holiday themed, or using seasonal produce.
2. Filters
Tutorials to walk you through:
Choose the Meals that Will Benefit You Most
Now you are ready to start mixing and matching to your heart's content. BUT we have A LOT of recipes! This is good for you, but it can also be a little overwhelming if you just start browsing over 6,000 recipes at random. So let's break it down into a few steps so that you can find what you really want.

We provide 11 different menu types so that you can choose the best one for your dietary needs and budget!
Traditional
Slow Cooker
Instant Pot
Real Food
Paleo
Diet
Gluten Free Dairy Free
Vegetarian
Allergen
Keto
Diabetes-Friendly

Meal Type
When I say "choose the meals that will benefit you most," I am first referring to meals of the day:
Breakfast
Lunch
Dinner
Snack
Add On
Side Dish
For most of us, dinners are the most stressful meal to get on the table. If your focus is eating dinner together with your people, you could choose 15 dinner recipes which will be doubled to give you a total of 30 dinners for the month! (See our example menu.)
Depending on your personality and stage of life, breakfasts and lunches may be your focus (think breakfast on the way to the gym or packing lunch boxes). Then again, maybe you like our regular system of having a variety of meal types to pull from the freezer.
So first, decide how many of each meal type you would like to include on your menu, and then narrow your search using the drop-down menus in our MenuBuilder Search.
Cooking Day and Serving Day Types
Okay, a few definitions to clarify your filters:
Cooking Day Cook Type: The method of cooking or preparing your meal BEFORE freezing it.
Serving Day Cook Type: The method of cooking or reheating your meal AFTER freezing it — to serve and then eat.
Now, ask yourself a few questions:
How long do I want to spend in the kitchen on my freezer cooking day?
Choose dump and go (i.e. throw and go in the bag) recipes or simple stovetop recipes under "Cook Day Types" to save time. Baked recipes will eat up a lot of time.
How long do I want to spend prepping my meal on serving day?
Choose ready to eat (for serving day this usually means reheating) or simple stovetop and grill recipes under "Serving Day Types" for meals that go from freezer to table very quickly or with little hands-on time.
Do I want dinner hot and ready when I get home?
Choose slow cooker under "Serving Day Types."
Do you want to be able to cook meals from frozen? Need a super quick, hands-free cooking method?
Choose prog. pressure cooker (a.k.a. Instant Pot) under "Serving Day Types."
There are lots of options, so choose based on your time constraints.
After you choose meal types, there are a plethora of tags we have assigned to recipes as well as a keyword search bar to help you narrow down your desired recipes.
First, think back to that original menu type that you started with (Traditional, Paleo, Diet, Allergen, etc.) You will find tags for each of these menu types, but they will also include recipes not found on that menu. Sometimes a recipe can fit more than one descriptor (for example Real Food and Paleo, or Diet and Gluten Free), so when you click on the tag, you will find all of the recipes that fit that description no matter where they originated.
But our tags go further than that. Our Allergen Menu rotates through different specialty diets, so there are tags for each of those. We have tags for different diet systems such as Trim Healthy Mama, Whole30, and Weight Watchers. You can even search recipes by season.
Here are a few other popular tags you will find:
Vegan
Nut-Free
30-Minute Meals
Low Sodium
Low Carb
Egg-Free
and Kid-Friendly!
Our MenuBuilder team is always updating recipes and tagging older recipes with new tags as they are added to our system. So if you don't find hundreds of recipes in your chosen category, be sure to check back with us each month for updates and additions! (You can always click the orange bubble in the bottom right-hand corner of your screen to ask a customer engagement representative about specific recipe needs.)

Narrow down recipes by using the keyword search bar.
Find Recipes and Menus Even Faster using our Search!
There is now an updated search experience as you look for new freezable menus and recipes! With that, you also have more detailed filters and tagging options in the new left-hand sidebar that makes finding recipes and building freezable menus even easier!
Search using:
Keywords, Ex: Taco, Southwest, etc.
Ingredients, Ex: chicken, sweet potato, etc.
Name & Title, The title of the recipe or menu if you know it.
Seasons, Ex: Fall, Spring, Summer, Winter (there is tag for these as well!)
The keyword search bar is helpful if you know the title of a recipe. You can also use the keyword search to look for recipes with specific ingredients. If you got a killer deal on ground beef or chicken and want to use that as the basis of your menu, you can search "beef" or "chicken." Or make use of seasonal produce items while they are at peak freshness. This can also help if you already know you have three chicken recipes on your menu and you don't want any more! Narrow the search to other types of meat.

4. Choose the Number of Meals You Desire
Remember how we talked about starting with a full menu back in the first step? Well, now it is time to whittle down your list. I know from experience that one can get carried away and start thinking thoughts like, "Shoot, why are there only 15 slots? I could totally cook 25 recipes in one day." — Trust me. You can't!
Be Realistic
Be realistic about the number of recipes you will be able to complete in one cooking session, what your shopping budget is, how long you want the meals to last, etc.
Remind yourself that each of these tasty recipes will be doubled and you will get to eat each of them twice regardless. In our experience, 15 recipes is the upper limit of what one cook can accomplish in the kitchen in one freezer cooking session. If you are superhuman and you blaze through and are ready for more, then you can make a new custom menu!
Our Recommendation
We recommend that those new to freezer cooking start with a mini menu containing 5 to 6 recipes (again each of these will be doubled, so you will have 10-12 meals).
Mini menus also work well if you are short on time or you have a smaller budget for batch cooking. Maybe you just don't need a meal for every night of the week.
When you have decided how many recipes you are going to cook, go ahead and delete the recipes you don't need from your list by hovering over the recipe you wish to delete. When you hover, a red "Delete" button will appear on the right-hand side of the recipe. Simply click to delete.

5. Choose the Number of Servings You Need
Almost done! Your last step in customizing is to choose the number of servings you would like of each meal.
We feel that it is the most efficient use of your time to double each recipe so that you can eat it twice throughout the month, and so our system will automatically double each recipe for you. Therefore, if you enter "4" for your number of servings, you will actually end up with 8 servings, and you will split the meal into two containers for easy portioning (you will see specific directions on your recipe cards).
Once you have entered your number of servings, print your custom documents listed below, and you are all ready to fill your freezer with your own custom freezer menu plan!
If you are new to Once a Month Meals, please check out our How It Works page for more details on what your cooking day will look like. If you love the idea of custom freezer menu plans, then sign up as a Member today!
Related Resources:
SaveSave
SaveSave
SaveSave
SaveSave