On September 28, 2014 by Kim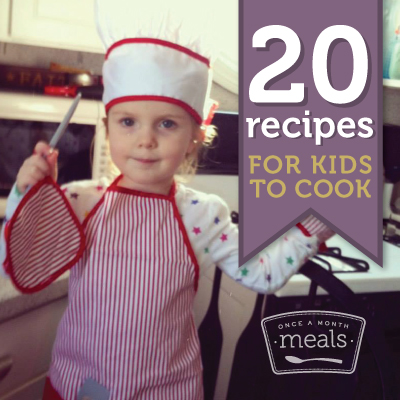 Yesterday we gave you five tips for inviting your kids into the kitchen. Today we wanted to share some recipes for kids to cook or help cook. If you want to involve your older children in a big cooking day, consider working on an easy assembly mini menu together or our new Kids Helping Mini Menu. Have fun!
Breakfast and Snack Recipes for Kids to Cook
Simple Main Dish Recipes for Kids to Cook
This 8 week course taught by Katie of Kitchen Stewardship teaches kids of 3 different age levels how to cook confidently and competently! Over 8 weeks kids will learn over 30 basic skills through videos, written materials, and hands on practice with kid friendly recipes.
Try out the Knife Skills Series! Sign ups for the full course begin now!
Make a Menu and Meal Plan With These Recipes!
With membership, you have access to all our recipes (including these!) and ALL our menus! You can customize one of our already curated menus, or create your own from scratch using our blank menu, My Freezer Meal Plan!
You're not locked into any one plan or menu type. You can save 5 customized menus at a time, and there is no limit to how many you can customize in a month.
LEARN MORE  CREATE A CUSTOM MENU