On August 11, 2018 by Once a Month Meals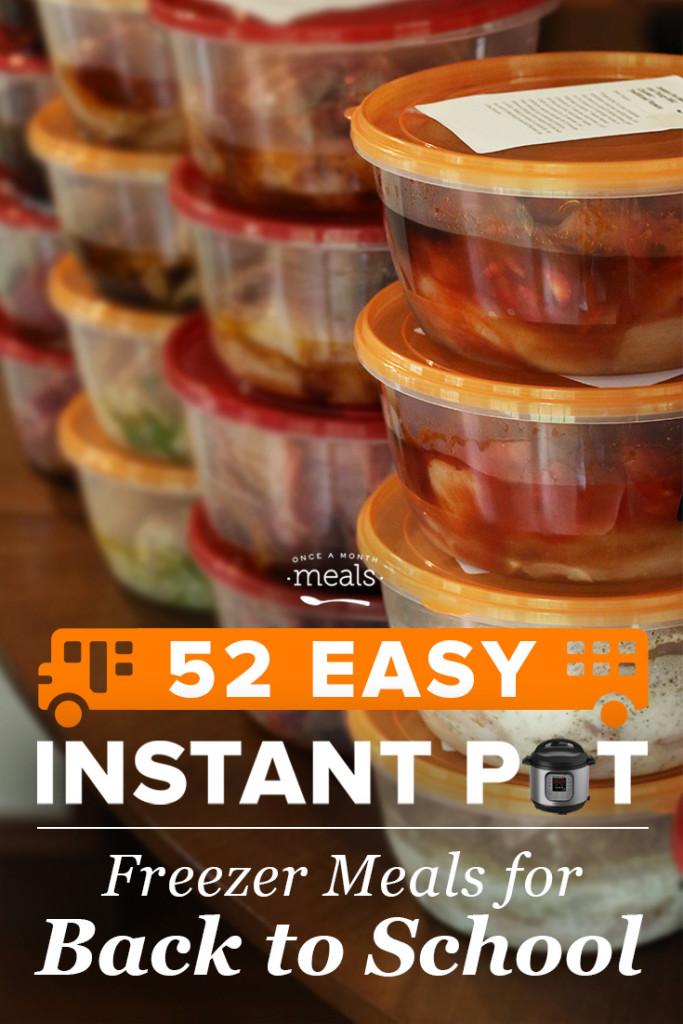 The Instant Pot (commonly known as the programmable pressure cooker) is our favorite kitchen appliance for getting dinner on the table fast. What better way to prepare yourself for back-to-school than to put together some easy Instant Pot meals for the freezer?!
These 52 easy Instant Pot dinners will have you and your family eating in no time!
All recipes listed below are:
easy to assemble
keep well in your freezer
are prepared in the Instant Pot (or other programmable pressure cooker)
and all when you're ready to eat
Did we mention you cook these FROM FROZEN?!
We also have resources, tips, and Instant Pot Menus to introduce you to freezer cooking with an Instant Pot!

Get started with an Instant Pot Menu
Instant Pot Menus come with:
Organized Grocery Shopping List
Prep Instructions
Step-by-step Cooking Instructions
Individual Recipe cards
Labels
Thaw sheet
ALL INSTANT POT MENUS ALL INSTANT POT RECIPES
Learn how to create your own custom menu from these recipes using our Membership! Make your own Back to School Dinner Menu to make this school year your best yet!
Try an Instant Pot Freezer Meal Plan for FREE on us!
Receive a complimentary Mini Freezer Menu of your choice and get started with easy freezer meals!
You'll receive a freezer cooking menu with 3 recipes, plus a grocery shopping list, prep instructions, recipe cards, labels, and more!
Just remember, with a membership, you would be able to customize the recipes and serving size! If you are indeed interested in customizing, you can purchase one month if you would like!
Instant Pot SOUPS & STEWS Freezer Recipes
(*) Next to a recipe indicates that you can ACCESS NOW without a paid membership.
Instant Pot CHICKEN Freezer Recipes
Instant Pot BEEF Freezer Recipes
Instant Pot PORK Freezer Recipes
Instant Pot VEGETARIAN Freezer Recipes
Want more Instant Pot recipes and inspiration? Here are another 50!!!

More Instant Pot resources:

Instant Pot friendly recipes and menus!
Get Instant Pot Recipes Instant Pot Meal Plans
You can cook the menu as is, or you can build your own custom menu with your Pro Membership.