On December 14, 2017 by Kim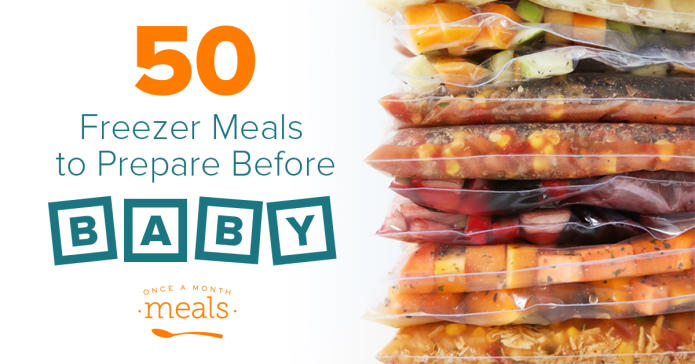 There is so much to do before baby arrives! Set up furniture, wash cute baby clothes, organize all the socks and shoes for every person in your house….ok maybe that last one isn't strictly necessary, but if feels like it to a nesting momma! Not to mention you may have big kids to care for, a job, activities – or maybe this is your very first time and you just don't know what to expect. Wherever you fall, prepping freezer meals before baby arrives can calm the nerves of any expectant mom.
You may just be thinking, "Great, another thing to do! When am I going to find time for that?" But we promise this is well worth it. Nourishing yourself and taking care of your people are super important, and pizza or the drive-thru just isn't going to cut it in the long term. So to make life easy:
We have compiled a list of 50 EASY freezer meals to prep before baby arrives.
We know you don't want to be standing for a long time and you don't have hours to spend in the grocery store. We have you covered!
Here are some of the criteria we used to create this list:
Dump and Go on Freezer Cooking Day
This means you only have to chop, measure, and dump in the bag. No cooking required! You might need to precook some meats, but when you do it in bulk, it isn't bad. You can just throw them in the crockpot or Instant Pot for hands-off prep!
Short Ingredient List
The shorter the better! That means less time in the grocery store, less time chopping, and ultimately less time in the kitchen! Win!
Slow Cooker or Instant Pot Preferred
Many of these recipes make use of the slow cooker on the day you serve it. But we also tried to pick as many recipes that had Instant Pot versions as well, so if you have one, you can choose that option. Because freezer cooking and the Instant Pot are a match made in heaven!
Simple, Tasty Comfort Foods
These are our family favorites! Delicious, but nothing super duper fancy. However, if your family has more specific dietary needs or you know you will need to avoid certain foods while nursing, you can create your own custom menu using the same criteria we used to search for recipes in our MenuBuilder database.
So without further delay….
50 Freezer Meals to Prep Before Baby Arrives

(*) Next to a recipe indicates that you can ACCESS NOW without a paid membership.
Chicken

Beef

Pork

Vegetarian

Instant Pot
If you want to create a menu out of some of these freezer meals before baby arrives, you can start with our blank menu template, My Freezer Meal Plan.
Simply search for the recipes you want to cook by name. Remember, each recipe is doubled, so if you choose 5 recipes, you will end up with 10 meals. For more instructions, read about Creating a Custom Freezer Meal Plan.
Additional Resources